Things You'll Need
Theme

Invitations

Decorations for the chosen theme

Party snacks

Gifts

Party favors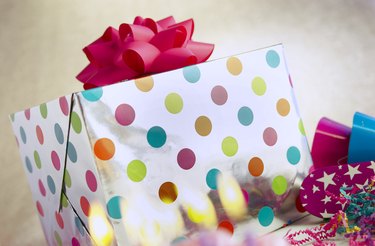 Saying goodbye is rarely easy, so when asked to host a farewell party, it can be quite the challenge. You don't want it to look like you're excited that the person is leaving, but you don't want to seem as if you don't care, either. Theme parties often function to suit the guest of honor, as well as keep the party memorable. Since you're the host, you have control of when and how things happen. Nonetheless, plan your send off party ahead of time, so if things don't work out as projected, you'll have room to adjust as necessary.
Decorate the location of the party in the theme of your shindig. This could include streamers in the party colors, posters or fake plants, neon signs or tiki torches. Choose decor that suits the guest of honor and the theme you choose for the farewell party. Select a theme for the send off party that based on where the guest of honor is going. For example, if your guest of honor is moving to a new job or relocating within their current job, theme the party after his new employment. If your guest of honor is relocating to a new home, you can theme the party after everything he loved about his current home. Other ideas include food themes, costume themes, movie themes, traveling themes and surprise parties.
Secure Send Off Party Invitations
Select or create an invitation matching your theme. When you create your invitation ensure you include the date, time and location on the invitation. You can also include information about the guest of honor and why he is moving, activities that will be held at the party, notes about speeches or notes about the timing of events. Use 8-by-5.5-inch paper as it is the easiest paper type to use if you're creating invitations yourself. This size is large enough to provide enough space for pictures and text without it being too large like a flyer.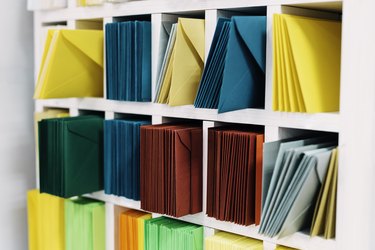 Select or create your envelope for the party. Although the standard envelope is white, a custom envelope printed from your computer is more likely to grab the attention of invitees when they see it in the mail. This will help build excitement for the party from the moment your guests see the invitation.
Mail out the invitations at least two weeks in advance for guests to plan their attendance, purchase gifts and plan speeches.
Plan a "Lifetime Recap" of your guest of honor's life. Ask old friends for pictures and stories prior to the party. Put together a slideshow, video or even a short play with guests involved. The guest of honor will never forget his friends recapping all the priceless memories they enjoyed together.
Arrange a playlist of music both the guests and guest of honor enjoy. If the playlist is too eclectic, choose songs in accordance with the theme.
Provide a Karaoke Machine
Set-up a karaoke machine for guests to enjoy. Karaoke machines are relatively cheap to rent and can make the quietest of guests burst out of their shell.
Set aside time for each guest to say something special about the party, the guest of honor's move and past, or to wish the guest of honor luck and prosperity in his new journey. This will move the guest of honor and create a memorable and heartfelt moment to be remembered by all.
Prepare quick food so you have the most time to spend with guests. Pizza is an appropriate farewell party food as it also acts as a comfort food. Ordering a buffet of deserts or your guest of honor's favorite foods is also appropriate.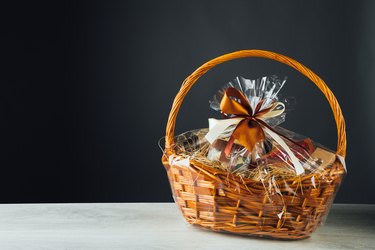 Gather with guests prior to the party and fill a small carry-on bag with gifts to help the guest of honor in his new home or job.
Give the guest of honor the bag at the party and instruct him not to open it until he reaches his new home.
Dedicate some time to gift giving. Each guest may want to give the guest of honor her own gift to be remembered by. Dedicate some time during the party for this and ensure you, as the host, have a gift for the guest of honor as well. Pick a gift that relates to where your guest is going. If he is moving to the tropics, for example, purchase a sunhat or sandals. Another idea is to give a memento from home like a key tag from his hometown, favorite photo of home or his hometown's heritage book.
Give each guest a small gift favor at the end of the night to thank them for their attendance to your send off party. Some ideas include candles, baked goods, pictures, candies and glassware. You can offer a custom photo book, for example, with pictures of the guest of honor and the attendee. You can print the photos from your computer and place them in the photo books for each guest.