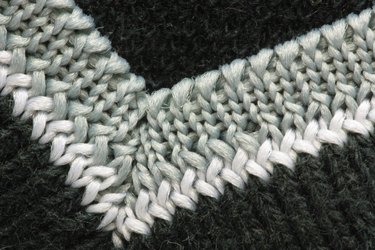 If you've accidentally thrown your wool sweater in the wash and it's now sized for a child, it's not necessary to give it away. Wool fibers exposed to washing tighten up, which causes the shrinkage. It's a simple process to loosen them up so the sweater can be restored to its original size.
Things You'll Need
Sink or bathtub

Hair conditioner

Towels
Step 1
Put enough warm water in a sink or bathtub to allow you to completely submerge the sweater. Add a bit of hair conditioner and mix it until it's completely dissolved in the water.
Step 2
Place your sweater in the water. Push it down until it's completely soaked and under water. Continue to press down gently on the sweater until there are no bubbles left to bring the sweater back to the surface.
Step 3
Let the sweater soak for 10 minutes.
Step 4
Drain the sink or tub while the sweater is still in it. Gently press down on the garment to remove as much water as possible. Don't squeeze or wring the fabric.
Step 5
Remove the sweater and lay it on a thick, absorbent towel. Place an additional towel under it if it's still dripping.
Step 6
Put the sweater in a cool room to air dry on the towel. The combination of warm water, conditioner and cool air will unlock the wool fibers and allow you to restore the sweater.
Step 7
Gradually stretch the sweater back into shape as it drys. Gently pull a bit at a time to re-size it. Let the garment completely air dry and it will be ready to wear.
Tip
Unless wool clothing specifies "dry clean only" on the label, it can be washed by hand. Immerse wool sweaters in cool water with mild detergent or a laundry product made for wool. Remove as much moisture as possible from a wool garment by placing it between two towels and pressing out as much water as possible, and then dry the garment flat.
Warning
Never use bleach or put a wool sweater in the dryer.