Things You'll Need
Straight Duct Tubing

T-Fit Duct Tubing

Transitional Fitting

Heat Register

Metal Duct Hangers

Sheet-metal Snips

Saw

Marker

Duct Tape

Mastic

Studs

Drywall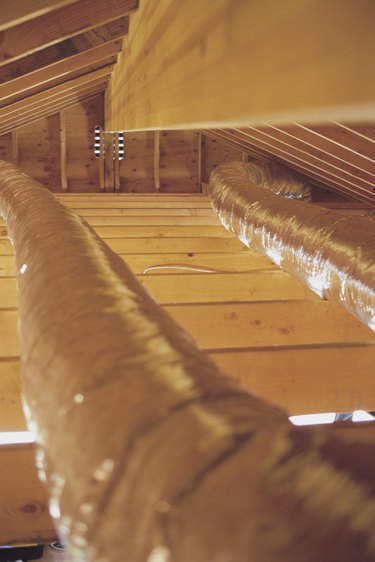 Running a duct from the first floor to the second involves creating a hole in the main duct and attaching new duct work that terminates in a floor-level heat register on the second floor. Homeowners expanding their existing first-floor duct work to the second floor need more space than walls typically provide, so they must cut a hole in the floor and pass the duct up through the first-floor ceiling. Boxing in the new, exposed duct with studs and drywall subtracts living space but conceals the improvement.
Step 1
Locate the first-floor plenum or main duct. Choose an area located below a closet or an unfrequented area of the house but close to a basement ceiling joist. Mark a circle on the main duct equal in size to the duct collar. Make sure the circle faces up toward the second floor. Cut out the circle with sheet metal snips.
Step 2
Fit the duct collar over the hole in the main duct and attach it. Cut a hole in the floor just large enough to accommodate the duct work. Run duct work through the hole. In the basement, secure the new duct work to a joist by running a hanger around the duct and attaching it to the joist.
Step 3
Continue attaching sections of duct work until you reach the ceiling of the first floor. Cut a hole in the ceiling with the saw, but avoid cutting into the ground level of the second floor yet.
Step 4
Run the duct into the ceiling. Secure it to a nearby joist with a hanger. Attach a T-fitting piece of duct work if you want the new duct to run into many rooms on the second floor. This will allow you to attach new duct work horizontally.
Step 5
Use the saw to cut a hole in the ground level of the second floor wherever you want ventilation. Snip a hole in the duct below the floor that is large enough to accommodate a transitional fitting. Attach the fitting so that it runs up to the hole in the floor. Cover the hole with a heat register.
Step 6
Seal any open duct work with a combination of duct tape and mastic. Cover the exposed duct with duct tape and seal by applying mastic.
Step 7
Conceal the duct that runs from the first floor to the second. Surround the duct with metal studs. Use the studs as a structural base for applying drywall, which will cover the duct by creating a new interior wall.