Things You'll Need
Tape measure

Tulle fabric

Scissors

Measuring tape

Tall ladder

Foam adhesive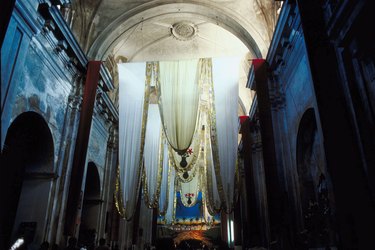 When you are decorating rooms for a celebratory event, such as a wedding reception, anniversary dinner or birthday party, you may feel frustrated if the ceiling in the room you are decorating is unsightly or unfinished. One solution is to cover the ceiling using a decorative fabric drape, which falls from the ceiling to the wall to conceal an unsightly appearance. You can hang up a ceiling drape using a few basic materials that you can find at any arts and crafts store.
Step 1
Measure the room you want to hang the drape using a tape measure. The area you need to measure includes the distance across the ceiling that you want to cover, the width of the ceiling and the height of the wall.
Step 2
Cut a piece of tulle fabric using scissors so that it fits the ceiling and down the wall, adding on 6 to 8 feet in length to your measurements. You can find bulk tulle fabric at a large craft store.
Step 3
Climb a ladder to allow you to reach the center of the ceiling, then apply 4-inch-long foam adhesive strips along the center line.
Step 4
Repeat to apply a long trail of foam adhesive strips along both edges of the ceiling.
Step 5
Press the corresponding end of the tulle fabric onto the appropriate wall edge, then press the tulle against the foam adhesive.
Step 6
Allow the tulle to drape down 3 feet, then press the end of the draped section onto the foam adhesive strips at the center line of the ceiling.
Step 7
Allow the tulle to drape down another 3 feet, then press the end of the second draped section onto the foam adhesive at the other edge of the wall. Allow the end of the tulle to hang freely down the wall.
Tip
Select tulle fabric to match the rest of your room decor. Remove foam adhesive strips using soapy water.
Warning
Keep sharp scissors out of the reach of children.