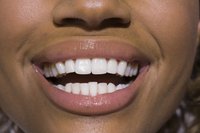 Add shine and moisture to your homemade lip gloss by adding castor oil. Castor oil, which is made from Castor beans, is known as a traditional laxative, according to Web MD. It is also found in perfumes, lubricants and soaps. Craft your own lip gloss or lip balm by using this natural product. The ingredient helps treat dry, cracked lips and it creates a shine without being overly sticky like some commercial lip glosses.
Things You'll Need
2 tbsp. castor oil
1 tbsp. shea butter
Small saucepan
Large pot
1 tbsp. coconut oil
1 tbsp. beeswax
1 tsp. honey
1 drop peppermint oil
Lip balm containers
Lip brush
Add 2 tablespoons of castor oil and 1 tablespoon of shea butter to a small saucepan to begin your lip gloss project. Pour water into a large pot and place it at medium-high heat on your stove to bring to a boil. Place the small saucepan into the boiling water to act as a double boiler.

Melt the castor oil and shea butter and stir frequently. Alternatively, you can melt them in a microwave using a small bowl.
Add 1 tablespoon coconut oil, 1 tablespoon beeswax, and 1 tablespoon honey. Stir until the mixture thickens.
Remove from the heat and add 1 drop of peppermint oil or other essential oil to the mixture. Mix well. Pour the mixture into clean lip balm or lip gloss containers. You can repurpose old containers or use a small ice tray.
Cool the lip gloss on your counter or in the refrigerator for 20 minutes. Smooth onto your lips with your fingers or a small lip brush.