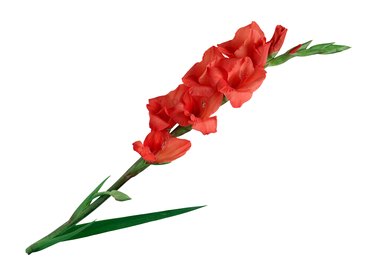 Forty years is a long time to be married, but too many party stores don't seem to see it as a milestone. Centerpieces, napkins, tablecloths and favors designed specifically for the 25th and 50th anniversary are everywhere, but decorators overlook the 40th anniversary. This means that you have the freedom to pick table decorations based on your own themes and ideas rather than resorting to manufactured items. Whether you base the table designs on the couple's original wedding, the traditional colors and flowers for a 40th anniversary, or some theme close to the couple's heart, you can make the table decorations shine.
Step 1
Create a color scheme for the anniversary. Rubies are a traditional gift for the 40th wedding anniversary, and gladiolas, which come in all colors but blue, are the traditional flower. You may want to build the color scheme around red or around a gladiolus centerpiece. Alternatively, use the couple's original wedding colors. Ask the couple or their friends and family what their colors were or check wedding pictures if you aren't sure.
Step 2
Determine what you would like to use as centerpieces. Flowers or candles are traditional and elegant choices. If you know one of the couple has a favorite flower, you can feature it prominently, or you can use gladiolus or a type of flower the bride had in her bouquet. If the couple has a beloved hobby, you might prefer to build the centerpiece around that hobby. If they are avid birdwatchers, for instance, you might use duck decoys as centerpieces, while novels would make an appropriate centerpiece for a bookish couple.
Step 3
Enlarge and laminate photos of the couple to use as place mats. Use pictures from different stages in their lives to emphasize the amount of time they've spent together.
Step 4
Use tablecloths and napkins that match your color scheme. These should be in complementary colors, such as pink tablecloths with purple napkins. If you try to use the same color for the tablecloth and the napkin, slight variations in shading will make them clash.
Step 5
Sprinkle the table with confetti, glitter, flower petals or other decorations. This is another area where you can incorporate the couple's interests, such as strewing the tables at a beach-loving couple's party with small seashells or scattering small playing cards or dice across the tables for a couple who loves games.