Things You'll Need
Dress

Scissors

Thread that matches the dress fabric

Tailor's chalk or pencil

Sewing Pins

Measuring tape

Sewing machine (optional)

Sewing needle (optional)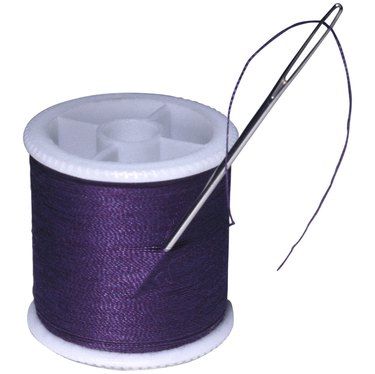 V-necklines are a timeless choice when it comes to dress fashion, and they can be flattering on any age and body type depending on the depth of the cut. As fashion changes, you might want to breathe new life into an old dress by changing its neckline. Whether you are designing the entire dress or just altering the neckline on an existing one, you can create a V-neckline with only a very basic knowledge of sewing.
Step 1
Put the dress on the person for whom you're making it. Use the chalk or pencil to mark off the exact shape of the V you want to create.
Step 2
Measure the precise center of the top edge of the existing neckline on the dress, and mark it with the chalk or pencil. Cut a single vertical slit down from the center to the desired depth of the V you marked off.
Step 3
Cut out the V shape, leaving an extra 1-inch of fabric all around for seams.
Step 4
Turn under the fabric one half inch, then again the remaining one half inch. The folds should rest on the inside of the dress. Pin it in place.
Step 5
Sew the seams in place by hand or use a sewing machine. Use a thread that matches the color of your dress. If you're sewing by hand, use a straight stitch, back stitch or whip stitch.
Tip
Before cutting the fabric, be certain of how deep you want the V. It is easy to change a scoop neckline into a V, but remember the process is not reversible.