Adding a large canvas painting to any space in your home can create the entire room's atmosphere and overall theme. When you are looking to hang canvas art, there are multiple options depending on your own preferences and the overall size of the piece. Hanging large canvas art requires a sharp eye and, in some cases, help from another person when securing the art to the wall.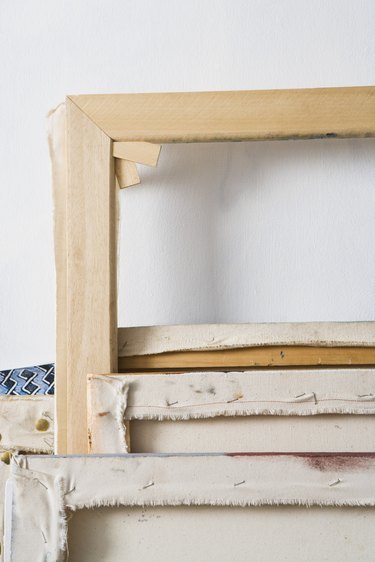 Things You'll Need
Laser Level

Art Adhesive Strips

Screws

Screwdriver

Mirror Plates
Using Mirror Plates
Step 1
Measure the size of your artwork and choose a place in your home where you want to hang it. Confirm there is enough room for the canvas on the wall you plan to decorate.
Step 2
Screw mirror plates to opposite ends of the back of the canvas painting, using one or two plates on each side of the canvas. The mirror plates allow for placement of another screw to hang the canvas on your wall.
Step 3
Place screws in the wall to line up with the slots in the mirror plates. Slide the hole in the mirror plates over the screw heads and let the painting drop into place.
Using Craft Adhesive Strips
Step 1
Use craft adhesive strips, available from local craft supply stores. Peel the back of one craft adhesive strip (check the weight limits on each type of craft adhesive strip you are interested in) and place one on each back corner of the canvas you are hanging.
Step 2
Press down thoroughly to set the adhesive strip into place and remove the remaining paper from the strip by peeling it back, exposing the adhesive and making your canvas wall-ready.
Step 3
Set the canvas into position on the wall you are decorating. Press and align one side of the canvas at a time against your wall to ensure the painting is aligned properly.
Tip
Use a laser level to help with hanging the canvas painting straight on your wall if you do not have the help of an assistant.