Things You'll Need
White corrugated cardboard

Bamboo skewers

Scissors

Ruler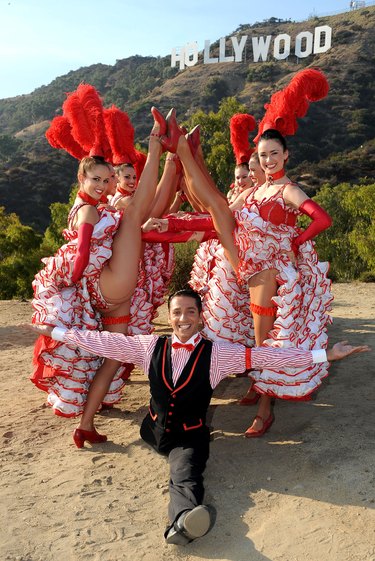 You can build a scale model of the iconic Hollywood sign, as seen facing south in the hills of Los Angeles, California using some commonly found household materials. Build a model to scale by keeping the same ratio of height to width of each letter. Whether building this model to feature in a film, or for a video buff's collection, you can easily recreate this iconic sign to provide the same nostalgia as the real sign represents.
Step 1
Draw nine rectangles on a sheet of white corrugated cardboard. The sign originally had letters that measured 30 feet wide and 50 feet tall. To create a 1:120 scale model, draw your rectangles measuring 3-by-5 inches. In 1978 the sign was restored using more durable materials, with each letter now measuring 45 feet tall and between 31 and 39 feet wide. To make a sign of this size with the 1:120 ratio, draw your rectangles measuring 3.5-by-4.5 inches.
Step 2
Cut out the rectangles from your sheet of cardboard using a pair of scissors.
Step 3
Draw the letter outlines onto each rectangle. Orient the rectangles so that the 5-inch-long side is vertical. Look at an image of the Hollywood sign and copy the upper case block letter outlines onto each rectangle. Draw the letters onto the rectangle utilizing the edges of the rectangles where possible. For example, take only a notch out of the middle bottom and top to form the "H."
Step 4
Cut out each letter using a pair of scissors along the perimeter of each letter shape.
Step 5
Break some bamboo skewers to use as supports. Depending on where you plan on mounting your Hollywood sign model, stick one end of a bamboo skewer into the back of the upper edge of each letter without poking through the front, and support them vertically by sticking the other end of the skewers into the base material or model mountain for the sign to be properly displayed.
Tip
Change the ratio of the sign dimensions to fit correctly into your model.