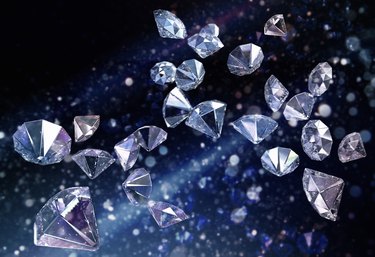 A denim and diamonds party is a central theme for a variety of events, including fundraisers, weddings and birthdays ranging from sweet 16 to age 100. From the invitations to the décor, use denim or dusty blue combined with glittering white, silver and gold to dress up the affair. Encourage guests to wear their favorite blue jeans and bling, complete with diamond tiaras and rhinestone jewelry, as they enjoy the party.
A Denim and Diamonds Theme
Prepare the grand entryway with navy or denim drapes held back by crystal ties and a navy or dusty blue carpet runner. Secure the runner with double-stick tape to avoid stumbles as the guests make their entrance into a glittering party room. Fill a treasure chest or denim rope basket on the sign-in table with craft store acrylic gemstones and "gold" coins to add more sparkle to the space. Wrap support pillars with blue paper and then wind twinkle lights up to the ceiling.
Fill the room with denim and diamonds decorations, from the twinkle lights to crystal doorway beads and a disco ball. Add an archway covered with sparkling acrylic or silver beads and twinkle lights backed with denim fabric and blue carpet underfoot for photo opportunities.
Consider adding ceiling draping panels or satin-top crystal curtains and/or swags along the walls or to cover windows and doorways in the venue. Available in several widths and lengths, the iridescent diamond-cut beads add bling to any room.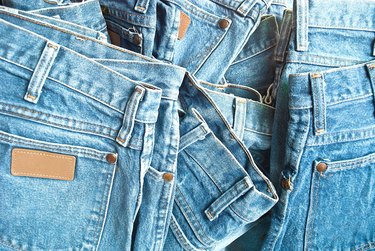 Combine the sheen of icy white polyester, damask or metallic tablecloths with denim overlays. A shimmering round tablecloth with a round or square denim tablecloth layered over the top provides contrast. Add silver or gold chargers, white plates, crystal glasses and white cloth napkins to dress up the place settings. Add crystal and silver salt and pepper shakers.
Small, crystal-encrusted picture frames with denim-blue name cards and silver ink make it easy for guests to find their seats. Provide a denim-colored fabric or paper party bag with crystal bead handles for each guest. Bags of rock candy crystals, gold- and silver-wrapped candies, "diamond" costume jewelry and other goodies will keep the party rocking.
Don't forget centerpieces. Use clear glass pillar or hurricane candle holders filled one-quarter full with clear acrylic gemstones and white candles to add glamorous flickering highlights to the event. For safety, be sure the candle flames are well below the upper edge of the candle holders or use battery-operated pillar candles. Alternatively, use a combination of candles and blue silk or fresh bouquets as centerpieces. Dip votive candle holders and the bottom third of vases, clear bottles or recycled jelly jars in glue and then add glitter or gemstones.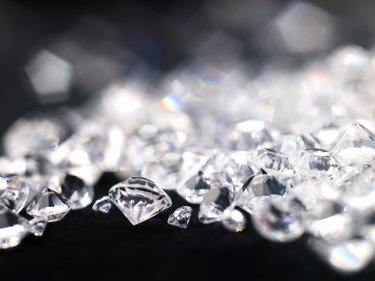 Bring the bling to the buffet with crystal platters, trays and punch bowls. While real lead crystal might be a budget-busting purchase, make the rounds at the local thrift stores for a variety of sparkling cut-glass bowls, plates, trays, pitchers and punch bowls with matching cups.
Cover the buffet table with large white tablecloths and then layer denim tablecloths and a contrasting white, gold or denim runner over the top. Arrange stainless steel chafing dishes and crystalline serving bowls along the buffet with crystal plates and stainless serving utensils. Scatter white and red fabric rose petals and more acrylic gemstones under and around the serving dishes.