Things You'll Need
Navy, black or denim tablecloths

Large rhinestones

Fabric glue

One tiara for each table

Navy, silver and white helium-filled balloons

Small weights

Small rhinestones

Silver confetti

Plastic drink glasses with stems

Plastic plates

Paper towel tubes

Silver spray paint

Hot glue gun

Glue sticks

Rope lights

Sheer white fabric

Strobe light

Costume jewelry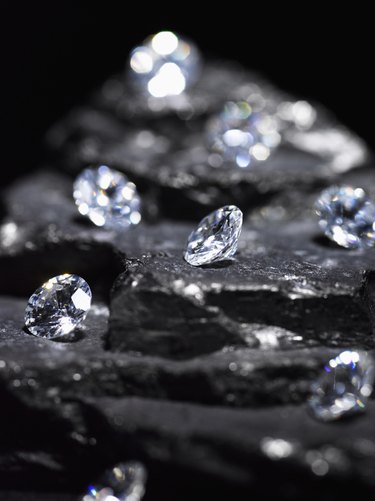 At a denim and diamonds party, guests pair their favorite blue jeans with their dressiest diamonds. Many occasions -- from a girl's sweet sixteen party to an evening benefit gala -- are celebrated with a denim and diamonds party. Decorations should be in the colors of navy, black, white and silver. Sparkly rhinestone accents and special lighting help set the mood of the party. With some thrift and fabric store purchases and a little creativity, denim and diamond party decorations bring the party to life.
Step 1
Cover the tables with navy, black or denim tablecloths. Glue large rhinestones to the sides of the tablecloths with fabric glue.
Step 2
Create tiara centerpieces. Set a tiara in the center of each table. Wrap weights with silver wrapping paper. Tie the helium balloons around the weights. Place one navy, white and silver balloon in the center of each tiara. Sprinkle small rhinestones and silver confetti around the centerpieces.
Step 3
Decorate rhinestone tableware. Hot glue rhinestones to the bases of the stemware and the outside lip of the plates. Cut the paper towel tubes into two-inch sections. Spray paint the sections silver. When the paint is dry, glue rhinestones to the sections. Use as napkin holders.
Step 4
Hang rope lights around the perimeter of the room, at the ceiling line. Drape with sheer white fabric. Turn on the strobe light throughout the party, especially during dance times.
Step 5
Set up a diamond table. Lay out diamond costume jewelry purchased at a thrift store. Let guests choose a piece of bling to take home with them as a party favor.