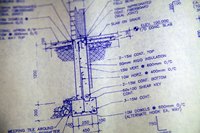 Construction plans consist of graphic descriptions and written specifications for construction projects. Specifications describe the performance standard and quality of materials; there are also several sections about concrete form, place and finish. Reading construction plans takes practice and requires familiarity with graphic symbols and line weights for drafting. Read written specifications carefully as well; if there is conflict between drawings and specifications, the specifications override the drawings.
Things You'll Need
List of construction symbols
Architect's scale (optional)
Engineer's scale (optional)
Highlighter
Concrete Construction Plans
Find the drawings and specifications dealing with the concrete elements. Review the general conditions, special conditions and construction contracts sections in the written specifications first.
Examine the horizontal information. The grading plan, foundation plan and basement floor plan contain layout dimensions, location of structural elements and descriptive notes. Highlight reference numbers that link to elevations, sections and construction details for specific items.
Review vertical information in elevation and section drawings. Study construction details for assembly and connection information such as doweling one concrete structure to another and intersection of framing members with concrete structures.
Reinforcing steel spacing and technical requirements may be contained in a shop drawing for complex projects. Location of contraction and expansion joints are described in plan view or the reinforced steel shop drawing. Look for concrete finish requirements on the floor plan, construction details or in specifications.
Written Specifications
Review written specifications for the general description of the work, the type of materials and how they're installed. Concrete mix, testing, form, place and finish criteria are described in the written specifications.
Note any shop drawings for concrete work that are listed in the specifications. Highlight construction milestones and inspection periods, and examine overlap with other trades in the construction scheduling.
Carefully note responsibilities for execution of the work; report any discrepancies between the drawing and the field to the project supervisor. Study plans and specifications together for potential conflict or problems and resolve them before construction starts.