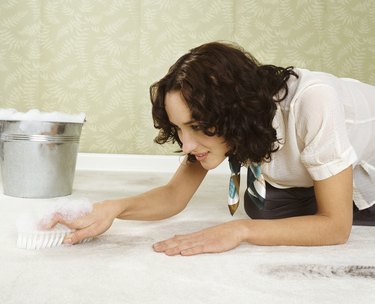 Even if you carefully cover your floors and furniture with a tarp before painting, a few stray drips and splotches can still manage to make their way into the carpet. Don't grab the turpentine just yet; there are easier ways to get paint out of carpet. You probably have some of these natural cleaners in your house already.
How to Get Paint Out of a Carpet
To remove paint from a carpet, you'll first need to know what kind of paint it is. For a fresh, water-based paint stain, lift away what you can with a dull knife, taking care not to smear the stain or rub it into the carpet. Blot with a white rag or wet paper towel until the stain is gone. If it has dried, add a drop or two of dishwashing liquid into a container and add hot water. Dip an old, clean toothbrush into the mixture and saturate the stain. Let it sit five minutes, scrape at it with a dull knife and blot with wet paper towels.
It's harder to remove oil-based paint. If it's still wet, try to lift it out of the fibers with a dull knife and have someone else blast it with steam from an iron or a clothes steamer while you are working. You can separate the fibers with a paper clip and blot them with a wet paper towel as you are working. You can try removing the carpet paint with a DIY paint remover if it has dried.
How to Remove Acrylic Paint From Carpet
Rubbing alcohol is a degreasing agent, and it can remove various kinds of paint stains from carpets. To use rubbing alcohol, you should first remove as much paint from the carpet as you can with a dull knife and needle-nose pliers. You should soak a clean cloth in rubbing alcohol and blot the stain. Don't pour the alcohol directly onto the stain. You can always try liquid dish detergent first but make sure that you never rub it into the fibers.
Once you have thoroughly dampened the stain with the alcohol, you should wait 15 to 20 minutes before you start blotting the area with another dry cloth. If this process doesn't work the first time, try again and see if that removes the paint from your carpet. Rubbing alcohol can also remove coffee, ink, blood, chocolate and butter stains, so it's a versatile cleaner to have around your house.
Tips for Removing Carpet Stains
The golden rule for removing stains from carpet is to blot instead of scrub. That's because stains can get pushed deep into the fibers and permanently ruin them. Start on the outside edges when cleaning a stain and work your way inward. This direction helps contain the stain and prevents it from spreading. If you don't have any rubbing alcohol, you can also try vinegar, glycerin or acetone, but you should always test it first in an inconspicuous area.
Patience is crucial when removing paint stains, so take your time and use a gentle hand. If it doesn't work the first time, try again. You will want to use warm water instead of cold, as the latter will set the stain into the carpet fibers. Steam is excellent for softening stains, and you can use a clothes steamer, iron or a vacuum steamer attachment as you are working. Once the stain is out and the fibers have dried, vacuum the carpet to fluff it.