Things You'll Need
Clay

Mexican skull mold

White, red, blue, yellow and orange acrylic paint

Fine artist's paintbrush

Craft glue

2 sequins

Sparkling face powder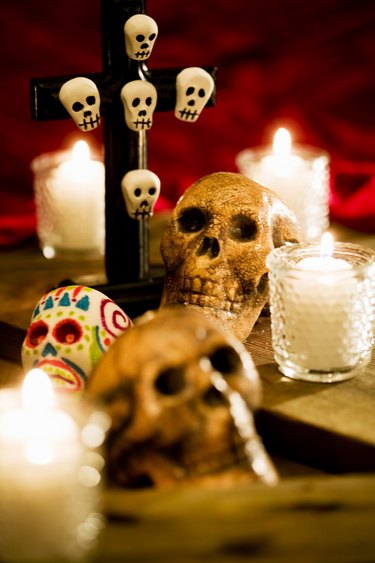 Celebrate the Mexican Día de los Muertos, or Day of the Dead festival, all year long with a clay sugar skull. According to Christian Clarke Cásarez of The University of Texas at Austin, sugar skulls are one of the crafts used to venerate dead relatives and ancestors for the holiday during November 1 to 2. The skulls are made from molds and intricately decorated with sequins and bright frosting. Fabricate your own clay sugar skull to dedicate to your loved ones with all the same adornments but with a more archival, or longer lasting, medium.
Step 1
Knead your clay to soften. Air-dry clay is one type of clay that can be used for this project. It hardens with air and has a natural feel. Polymer clay is vinyl-based and can be cured in a conventional oven, but it works best for skulls 3 inches or smaller.
Step 2
Press your clay into your sugar skull mold. Use the same molds as you would for sugar skulls, which can be found at candy making stores during Halloween. Push enough clay into the mold so it is completely filled.
Step 3
Pop the skull out and allow to dry. If you are using air-dry clay, dry at room temperature for two to seven days. Polymer clay hardens by baking at 275 degrees Fahrenheit for 15 minutes per 1/4 inch of thickness.
Step 4
Paint the entire clay skull with white acrylic paint using a fine artist's paintbrush. Allow it to dry completely. Squeeze a drop of craft glue into each eye socket. Press a single sequin into each hole.
Step 5
Paint a red line across the mouth of the skull. Add small perpendicular lines across it. Paint the nose hole with red paint. Outline each eye with red. Add blue crosses around the head. Paint yellow flowers and add orange swirls. Allow the skull to dry completely.
Step 6
Dust the skull with sparkling face powder to recreate the look of the white sugar.
Tip
Add a few drops of water to the air-dry clay if it is too hard and dry.
Bake your polymer clay on a baking sheet to cure.
Use photo references of real Mexican sugar skulls for ideas for your clay skull.