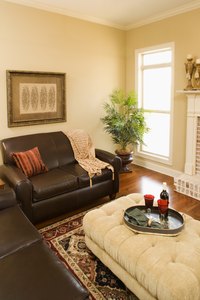 Usually covered by fabric or leather, ottomans are used as a design element in a home, to provide a place for homeowners to put up their feet or used as extra seating. Ottomans are sometimes tufted with buttons and stitching. This tufting introduces folds in the fabric that can collect and hold dust and dirt. Cleaning an upholstered ottoman takes a little extra care to ensure all the grime is removed.
Things You'll Need
Vacuum cleaner
Bleach-free detergent, upholstery cleaner or carpet shampoo
Vacuum in between the folds of the fabric. Use an upholstery attachment and work the nozzle in, pausing for a few seconds to pick up the dirt. Turn the ottoman over and vacuum the fabric underneath as well.
Prepare a solution of 1/4 cup bleach-free detergent and 2 cups water. Alternatively, use a commercial upholstery cleaner or carpet shampoo.
Apply a small amount of the cleaning solution to a small area of the ottoman to make sure it does not harm the fabric. If the color does not run, proceed to the next step.
Dip a sponge into the cleaning solution and begin blotting the dirt. Scrub stubborn spots lightly taking care not to rub beyond the soiled area.
Blot the ottoman with a clean dry cloth and allow it to air dry.