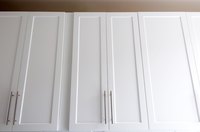 Cabinets set the tone for the entire room and catch the eye right away, whether the space forms a kitchen, office or bathroom. They can make the room look pulled together or like a hot mess, depending on the finish, color, embellishments and hardware. Flat cabinet doors are the easiest to dress up; a vast, flat surface is like a blank canvas on which to create a decorating "masterpiece."
Things You'll Need
Picture frame molding
Finishing nails
Hammer
Nailset
Paint or stain
Wood motifs
Wood glue
Cabinet and drawer pulls
Decoupage glue
Enlarged pictures
Frame cabinet door fronts with picture frame molding. Attach the molding with finishing nails, and countersink the nail heads with a nailset. Stain or paint the molding before attaching it to the front of the cabinet doors if you want to keep cabinets the same color. Paint or stain the doors and molding after installing the new trim if you want a completely new look.
Dress up cabinet doors by gluing on wood motifs carved in substantial relief on the front with flat backs. Apply wood glue to the back of the motifs and hammer in a few well-placed finishing nails to attach them to the cabinets. Countersink the heads of the finishing nails by tapping them in with a nailset. Fill in the small depression with wood filler before painting or staining the motifs and cabinet fronts.
Add hardware or change the existing hardware. Simply changing handles and drawer pulls gives cabinets a new look without applying a drop of paint or stain. Choose from wood, metal, ceramic, plastic or novelty shapes that fit in with the rest of the room's decor. For instance, add whimsical ducks to a child's bathroom cabinet or stylish nickel-plated pulls to a kitchen cabinet.
Decoupage pictures or collages of pictures on cabinet doors. Choose fruits and vegetables as one theme for a kitchen. Select images of gardens and plants, including flowers, for a garden shed. Incorporate pictures of tools for crafting or enlarged photos of successful projects for a crafter's space.