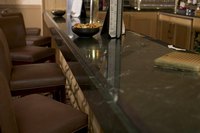 Silestone is a composite of quartz, plastic resins and pigment. The material is manufactured as one of the most durable countertop materials available, requiring little maintenance and rebuffing most stains and scratches. Undiluted, chlorine bleach on the silestone may remove the glossy surface sheen and appear as dull stains. If the damage is not too severe, you can restore the luster with a multi-purpose furniture spray.
Things You'll Need
Warm water
Microfiber cloths
Multi-purpose furniture spray
Dip a cloth into the water and buff the stained area of the silestone until all residual traces of bleach are removed.
Buff the area with a dry cloth until the countertop is completely dry. Allow the surface to air dry for an hour so any remaining moisture will evaporate.
Spray a small amount of multi-purpose furniture spray onto another clean, dry microfiber cloth. Buff the stained areas of the silestone with the cloth. Allow the spray to dry completely.
Reapply additional multi-purpose furniture spray after the first coat has dried. Allow to dry completely.