Things You'll Need
Plastic sheeting

Stepladder

Paintable latex caulk

Caulk gun

Dry rag

Damp rag

Joint compound

Small plastic bucket

Water

4-inch paintbrush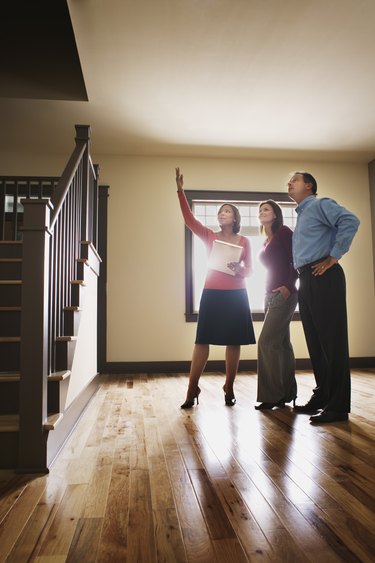 Hairline cracks in textured sheetrock ceilings form for numerous reasons. Repairing ceiling cracks is not an extensive job and can be performed without causing damage to surrounding areas. Matching the texture applied to the ceiling is often more difficult than performing the repair. Although matching the texture is difficult, the applied texture will be less noticeable than the original hairline crack. Using the correct material and texture application technique ensures a long-lasting repair.
Step 1
Lay plastic sheeting on floor, directly under the hairline crack.
Step 2
Set up a stepladder under the crack. Ensure you can safely reach the ceiling from the positioned ladder.
Step 3
Secure an open tube of paintable latex caulk in a caulk gun. Apply a dime-sized puddle of caulk to a dry rag. Wipe the caulk across the crack. Move along the crack until it is filled with caulk. Wipe a damp rag over the crack to remove excess caulk and blend the repair into the surrounding area. Allow the area to dry for 12 to 24 hours.
Step 4
Pour joint compound into a small plastic bucket. Thin the joint compound by adding an equal amount of water to the bucket. Stir the mixture thoroughly for three to four minutes.
Step 5
Dip the bristles of a 4-inch paintbrush into the thinned joint compound. Hold your non-dominant hand 4 to 6 inches from the surface of the textured ceiling. Tap the handle of the paintbrush on your non-dominant hand until the crack is covered with a splattered joint compound. Stop spattering the area when the texture closely matches the rest of the ceiling. Allow the joint compound to dry for 24 hours before applying paint.