Things You'll Need
Hose

Bucket

1/2 cup non-ammonia detergent

Rubber gloves

Scrub brush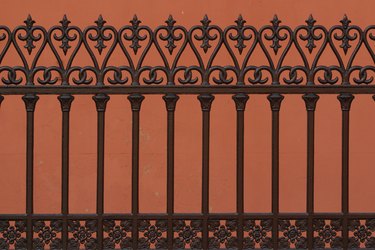 The decorative nature of a wrought iron gate is spoiled by ugly mildew spores growing on the surface. Since wrought iron is neither porous or organic, dirt, debris and dust must be present on the surface of your gate for mildew spores to grow and develop. While keeping the wrought iron clean and maintained prevents mildew, you must kill and remove the stains that already exist. With the use of effective household supplies, you can get mildew off your wrought iron gate and prevent it from spreading to nearby surfaces.
Step 1
Wet the wrought iron fence with hose to keep mildew spores from becoming airborne as you clean.
Step 2
Pour 1 gallon of hot water into a bucket. Add 1/2 cup non-ammonia detergent to create a mildew-killing solution.
Step 3
Wear rubber gloves to avoid contact with mildew spores and irritation from the detergent solution.
Step 4
Dunk a scrub brush into the detergent solution. Begin scrubbing at the top of the wrought iron fence, working on a 2-foot section at a time.
Step 5
Rinse your scrub brush as the mildew stains and spores are removed. Apply more of the non-ammonia detergent solution and continue to scrub the entire fence.
Step 6
Spray the fence with the hose to rinse it. Allow the surface to air-dry.
Tip
Wash your wrought iron fence once each season to remove debris and dirt.