Satin dresses remain a common garment in many wardrobes because of the beauty and shine of the fabric with which they are made. However, satin is a delicate and slippery material. If you need to hem a satin gown or dress, follow a specific procedure to ensure the hem looks professional and lasts for years. This process requires a sewing machine, items found in your sewing kit and basic sewing skills.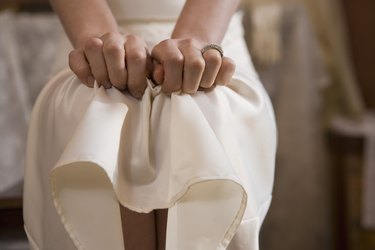 Things You'll Need
Scissors (If Shortening The Dress)

Sewing Machine

Satin Dress To Be Hemmed

Flat Iron

Measuring Tape

Thread, Poly-Cotton Blend
Step 1
Preheat the iron to the satin setting. Check the manufacturer's directions to determine the correct setting. Do not set the iron higher than the recommended temperature for satin; satin is a delicate material that may melt when exposed to high heat.
Step 2
Determine exactly where you will cut off the excess fabric if you have to shorten the dress. This measurement will be the length of the finished garment plus 1/2 inch. The extra 1/2 will be used for the hem. Trim off the excess fabric. If you are not shortening the dress, omit this step.
Step 3
Fold the raw edge of the dress under 1/4 inch toward the inside of the garment. Press the fold with the hot preheated iron to sharpen the crease and keep it in place.
Step 4
Fold up the edge of the dress 1/4 to the inside one more time. Press to sharpen the crease.
Step 5
Stitch the hem into place with the sewing machine. Keep your line of straight stitching just under 1/4 inch from the folded edge of the dress. Press the finished hem one more time.
Tip
To disguise the thread, use a thread that is similar in color to the fabric.
Warning
Do not pin the hem in place. Doing so can damage a delicate fabric such as satin.