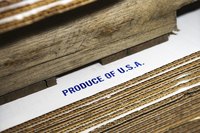 Display your menu for your next dinner party on a poster board easel. Cut and fold corrugated cardboard to make a sturdy easel for displaying fact sheets for your child's science project at the science fair. Poster board comes in many colors, so you can use it to make an easel that matches your centerpiece. Corrugated card board makes a studier easel that can be painted any color.
Things You'll Need
Ruler
Poster board or corrugated cardboard
Pencil
Box cutter
Heavy scissors (optional)
Measure the item that you want to display.
Cut a piece of cardboard the same height and width. If using corrugated cardboard, the ridges of the inner layer should run parallel to the height measurement.
Mark the center of the top and bottom side of the cardboard. Draw a line down the center of the cardboard between these marks. If using poster board, lightly score the poster board along this line with a box cutter. If using corrugated cardboard, cut through the top layer of cardboard along this line.
Turn the cardboard over. Hold the cardboard down on one side of the line and lift the other side up to fold the cardboard along the line.
Lay the folded cardboard on a flat surface with the fold on the left side. Measure one inch up the right side from the bottom corner. Mark that point with a pencil. Mark a second point one-half inch above and one-half inch to the right of the bottom right corner.
Draw a line between the two points. Draw a second line between the second point and the top left-hand corner.
Cut along the line through both layers of cardboard with heavy scissors or a box cutter to make the easel.