Things You'll Need
Soft brush

Vacuum cleaner

Upholstery attachment

Crevice nozzle

Water-free solvent cleaner/dry-cleaning fluid

White cleaning rags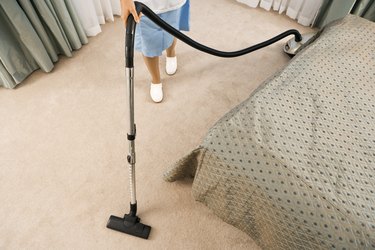 Damask upholstery brings an air of elegance to any home, so it's important to keep it looking its best. The key to this is appropriate regular cleaning, according to the cleaning code. In the case of damask, this is "S," which means it must be cleaned using solvent-based cleaners. It's important to establish a routine of regular dust and grime removal, as well as spot cleaning.
Step 1
Examine the upholstery to identify areas where there is ingrained dirt. Brush these areas with a soft brush to loosen this dirt before vacuuming the upholstery thoroughly. Use the upholstery attachment, and go over each area carefully to remove grime and dust. Vacuum the tops, bottoms and sides of the cushions, as well as the area under the cushions. Use the crevice nozzle to clean narrow gaps where the area under the cushions meets the arms and back. If your damask upholstery has buttoned inserts, use the crevice nozzle to suck dust and dirt away from these.
Step 2
Examine your damask upholstery to identify any areas with staining that needs spot cleaning. If it is the first time you have used a solvent-based cleaner on these surfaces, ensure it will not damage them by testing a very small, inconspicuous area first. Apply a very small amount of the cleaner, and blot it off. If the appearance of the damask remains unaltered, it is safe to proceed with cleaning the stains.
Step 3
Apply the solvent cleaner to each stain using a white cleaning rag. Blot the area immediately, but use a fresh section of the rag. This means you will not retransfer soiling already lifted off the damask back on to the surface. Once the soiling has been removed, allow the area to completely dry, then vacuum it to restore the original look of the damask's surface.
Step 4
Vacuum any scatter cushions that sit on your damask upholstery. If necessary, remove washable covers. Wash and dry them according to the laundry instructions before reinserting the cushions and placing them back on the upholstery.
Tip
If you have to spot clean a damask upholstery seat cushion, clean its entire surface area. This will give the upholstery a uniform appearance.
Warning
Never attempt to deep clean all your damask upholstery yourself. You run the risk of streaking or otherwise marking the surface. Hire a professional cleaner to carry out the work.