Things You'll Need
Broad-rimmed hat

Trench coat or overcoat cut at knee length (wool is the ideal material)

Khaki pants

White cloth or wool knee length socks

Vest

Dress shoes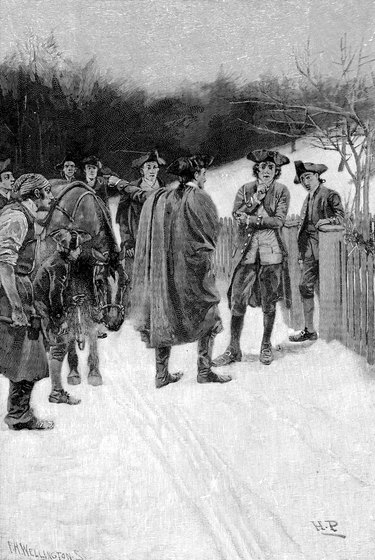 Colonial costumes can be made from old clothes. While the colonial era spanned centuries and fashions changed during that period, many people associate the fashion of the American Revolutionary era as typical colonial dress. The typical male fashion that captures popular imagination consists of a tricorn (also spelled tricorne) hat, with its distinctive triangle shape, a knee length coat, stockings and buckle shoes. The colonial costume can be made from clothes around the house or purchased cheaply at a local thrift store.
Step 1
Make a tricorn (also spelled tricorne) hat. Take a broad-brimmed hat and fold the brim upright in the shape of a triangle. The front of the triangle should protrude from the forehead. Secure each side with a safety pin or by sewing.
Step 2
Find an old overcoat or trench coat, ideally at knee length. Wool material would be the most realistic, but other materials will also work. Dark blue, black or beige were common colors during the colonial era. Sew or pin a vertical row of gold or silver buttons on each side of the coat, four or five buttons down, starting from the top of the chest. Cheap imitation buttons can be found at most craft stores.
Step 3
Take a pair of pants, ideally of khaki material and hem the length below the knee to fit tightly around the calves. This will allow the stocking to fit over them better. Black or beige pants will look best, but blue will also work.
Step 4
Use a pair of wool or cotton plain white knee high socks and pull them half way to the knee. Be sure to pull them over the pants.
Step 5
Use a white or light beige dress shirt and flip the collars upright. For the neck kerchief, tie a thin cotton or silk scarf around the neck.
Step 6
Wear a vest over the shirt. The vest can be of a different color than the coat. For example, it was common to wear a black coat with a beige vest.
Step 7
Use an old pair of black or dark brown dress shoes. For best results and ease of use, try to use a pair of dress shoes with no laces. To give them a more realistic look, sew or glue a silver buckle near the tongue of the shoe, where laces would normally be.
Tip
For better results, use an overcoat that only has a neck collar. This will make the button placement easier and more realistic.