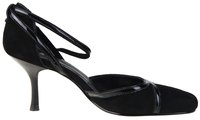 It's not often that having your shoes on the table is encouraged, but in the case of a stylish high-heel shoe centerpiece, it's a must. If you are hosting a bridal shower, Sweet 16 party, tea party or a girls' night, you can add some glamor to the occasion by making your own high heel shoe centerpiece as the focal point of the table. Feminine, classy and unusual, the shoe will make a lively conversation piece and designing it yourself will ensure that it matches the theme of your party.
Things You'll Need
Scissors
Magazines, photos, wrapping paper or scrapbooking paper
A high-heeled peep-toe shoe
Decoupage glue
Paint brush
8-inch by 2-inch or larger piece of lace, ribbon or tulle (optional)
6-inch by 4-inch block of floral foam
Fake flowers
Cut out pictures from magazines, newspapers, wrapping paper or scrapbooking paper to use as decorations for the centerpiece. Estimate how many you will need to cover the entire shoe or whatever portion of the shoe you wish to decorate.
Use a paint brush to spread decoupage glue onto a section of the shoe and press the pictures onto the glue, being sure to smooth out any wrinkles before the glue dries. Repeat this for the whole shoe until it is covered in pictures with no part of the shoe uncovered. Allow the centerpiece to dry.
Brush a layer of decoupage glue over the whole shoe. Use brushstrokes that all go in the same direction so the glue is evenly distributed. Allow the glue to dry and repeat at least once more.
Thread a piece of lace, ribbon or tulle through the peep-toe of the shoe and tie it into a bow.
Use scissors or a knife to cut a block of floral foam to a size of about 5 inches by 1 inch by 2 inches. Fit the foam into the shoe where a foot would go. Keep shaving off bits of the foam until it fits snugly but does not rise above the sides of the shoe.
Poke fake flowers, real flowers, pinwheels, foil sprays or whatever decorations you choose into the floral foam until the foam is hidden.