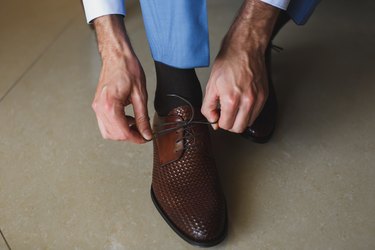 Whether you wore them in the rain or spilled something on them, the resulting water spots on your leather shoes can ruin their appearance. However, these spots don't mean that you have to throw them in the trash. A good leather stain remover can eliminate the unsightly marks and make your shoes look much better.
Removing Water Stains on Leather Shoes
While leather can be somewhat water-resistant, it is permeable and will absorb the liquid. The longer the water remains on the material, the more chance you have of developing stains. To prevent the risk of this happening, remove the water as quickly as possible with a slightly damp, clean sponge or cloth. Do not attempt to dry leather with a hair dryer, outside in the sun or with another heat source. These methods can make the leather harden and crack.
It is best to use a soft cloth to remove water spots on leather shoes. Your cloth should be damp but not dripping with water. Keep the water at room temperature or slightly warmer and do not add soap or anything else. Begin at the middle of the water mark and gently wipe outward in a circular motion. Allow the shoes to dry naturally without too much rubbing. Use a leather conditioner on the shoes once they are completely dry.
Like anything else made from leather, shoes made from this substance can be prone to other problems, like scuff marks and wrinkling. Some people do not mind these minor imperfections because either can give the leather a bit more character. More stubborn scuffs and water stains might go beyond minor imperfections, however.
If a water spot does not come out, the water likely contains minerals or salt, and the stains may look whitish. Experts suggest mixing a 50/50 solution of distilled water and white vinegar. After using that solution, follow it with a leather conditioner or shoe polish paste. Using a good leather stain remover is another option.
Other Kinds of Leather Damage
If you do not want any scuffs on your shoes, clean them with a leather shoe cleaner product or soapy water. Soak a cotton ball in olive oil, saddle oil or baby oil and rub that over the scuffs with a circular motion.
Let that rest for an hour and wipe it away with a soft, clean cloth. You can repeat this process if it does not work the first time. Deeper scratches may require a little more work. To get started, clean and wipe the area with rubbing alcohol and let it dry. Gently sand it with ultra-fine, 1,200-grit sandpaper until you've smoothed out the scuff. Add some matching leather filler and sand it again using a matching dye to complete the repair.
Rubbing alcohol can also remove wrinkles from leather shoes. It makes leather stretch but be careful when using it on shoes. As with any leather cleaner or treatment, test the product in an inconspicuous area and start with a small amount. Remember that suede is different from other leather, and you should use products designed specifically for suede. Never use alcohol to clean anything made with suede.