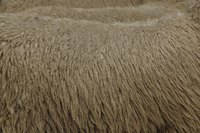 If you are decorating your home in a naturalistic style , you can create a space that feels more like a garden with accent pieces, featuring "trompe l'oeil" or "fool the eye" elements. Using "trompe l'oeil" elements in your decorating allows you to incorporate outdoor features into the home's interior. For example, you can construct a pillow out of felted rocks that will resemble real river rocks. You can make a felted rock pillow with materials that can be purchased at any arts and crafts store.
Things You'll Need
Wool batting
Pie plate
Oil soap
Towels
Embroidery floss
Embroidery needle
Scissors
Straight pins
Thread
Needle
Place 8 oz. of wool batting into a pie plate. Select any color of undyed wool you prefer. Fill the plate with hot water.
Add 1/2-tsp. of oil soap into the pie plate. Push on the wool with your fingers for five minutes to felt the top side of the wool together.
Flip the wool over and push on the other side for five minutes to felt it together.
Squeeze out your felted rock. Lay it onto a towel to air-dry for two hours. Repeat the entire process to create a total of 24 felted rocks. Select different shades of wool for each rock so that the pillow will appear more like real rocks.
Place the felted rocks into four rows of six stones. Position all of the rocks so that the edges touch.
Thread an embroidery needle with embroidery floss. Sew all of the edges together where they touch. Cut off the excess floss with scissors.
Fold the felted rectangle in half lengthwise then pin around the edges with straight pins. Leave a 1/2-inch seam allowance around the edges as you pin.
Sew around the pinned form with needle and thread, leaving 3 inches unsewn. Remove the straight pins.
Turn the felt rock pillow form right side out through the 3-inch hole. Stuff the pillow form with wool batting until it is as full as you prefer.
Turn the edges of the opening in by 1/2-inch then sew the opening closed. Trim off any excess thread with the scissors.