Things You'll Need
2 paper towels

Putty knife or butter knife

Dry-cleaning solvent

Denatured alcohol

2 washcloths

Wood oil

Steel wool 0000 grade scrub pad

Dish detergent

Bowl

Cotton ball

Nail polish remover

Baking soda

Stiff-bristled brush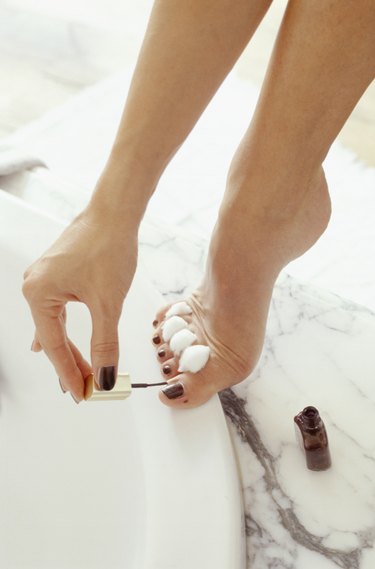 Almost every woman has attempted to paint or touch up her nails while in a hurry. When you are in a rush, you are also distracted. Neglecting to properly tighten the lid on your nail polish or leaving it sitting on the edge of a kitchen or bathroom counter could result in an accident that leaves your cabinets spattered with brightly colored polish. Regardless of whether you have traditional wooden cabinets or laminate cabinets, tackling the stain immediately reduces the odds that your little mishap will result in a permanent stain.
Wooden Cabinets
Step 1
Wipe away as much of the nail polish as possible with a paper towel. If the polish has already begun to harden, scrape away as much polish as you can with a putty knife or butter knife.
Step 2
Dampen a washcloth with dry-cleaning solvent. Rub the stain vigorously with the washcloth.
Step 3
Pour a small amount of denatured alcohol onto a clean washcloth. Rub gently at the stain until it comes off.
Step 4
Apply wood oil to the nail polish stain. Scrub the stain with a 0000 grade steel wool scrub pad. Use long, even strokes in the direction of the grain until the nail polish stain disappears.
Laminate Cabinets
Step 1
Wipe away the excess polish with a paper towel.
Step 2
Add a squirt of dish detergent to a bowl of warm water. Dip a washcloth in the warm, soapy water. Clean the stained area with the washcloth.
Step 3
Wet a cotton ball with nail polish remover. Wipe at the stain gently with the cotton ball.
Step 4
Make a paste out of baking soda and water. Apply the paste to the stain using a stiff-bristled brush. Wipe the area clean with a damp washcloth.
Tip
Avoid accidentally knocking the nail polish bottle off the counter and staining your cabinets by laying down a sheet of newspaper or an old towel and painting your nails on the bathroom floor.
Warning
Nail polish may not come out of your washcloths. When cleaning nail polish stains, only use washcloths that you don't mind staining. Do not use nail polish remover on stained or glazed wood. It will remove the wooden finish. Never use bleach to clean your laminate. Although laminate is naturally stain resistant, bleach can leave permanent stains on your cabinets.