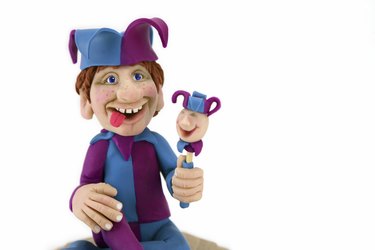 You don't need an oven to harden polymer clay if you choose a clay that cures by air-drying. Check the package instructions, because polymer clay brands all have different curing temperatures. Each brand has instructions for curing the clay, some of which include baking the sculpted clay in an oven in temperatures that range up to 300-degrees Fahrenheit. While you can harden some of the oven-baked clays without an oven, the results may not be to your liking, as the clay may cure unevenly. Only use polymer clays to make arts and crafts items, not for drinking or eating utensils.
Ingredients and Storage
Polymer clays typically contain polyvinyl chloride, a petroleum-based product called PVC used to manufacture pipes and a variety of plastic items. As plastic clay, you can easily shape and work it because it doesn't dry out with use and air exposure as earthen-based clays do. Keep it stored in an airtight container in a cool dark place when not in use. Air-dried clays, when not stored properly, harden in about 24 hours.
Air-Dried Clays
After crafting or sculpting a decorative item from an air-dried, polymer-type clay, place it on a piece of ceramic tile or wood. Set the crafted item in a warm room on a shelf that has an even temperature. Air-dried clays take a minimum of 24 hours to harden. After the clay has dried, you can paint it with artist's acrylic paints or even with acrylic craft paints. Let the paint dry before using the crafted item in jewelry. Air-dried clays usually shrink a bit after drying, so adjust for the shrinkage when you make your craft item.
Oven-Cured Polymer Clays
When you don't want to cure clays that harden at a specific temperature in the oven, you can use a heat gun, hair dryer or heat-embossing tool set to the desired temperature. Place the polymer clay creation on a nonstick surface, such as a piece of ceramic tile or block of wood. If you have a Lazy Susan, set the item atop a piece of cardboard on the Lazy Susan. Hold the dryer at least 6 to 12 inches from the piece as you turn it slowly to dry it evenly. Do not leave the hair dryer, heat gun or heat-embossing tool over one area on the clay too long; if it starts to burn, it releases toxic fumes.
Tips and Warnings -- Safety First
Polymer clays emit toxins if you overheat or burn them in the oven or with an alternative heat source. And because of the chemical ingredients, do not use polymer or air-dried clays to make food or drinking containers. Even though both air-dried and oven-cured polymer clays are non-toxic, keep a watchful eye on small children to prevent them from eating the clay. Dedicate specific tools to use with the clay; do not use silverware, dining or cooking tools. Avoid touching your face, nose or eyes when working with the clay. Use a brush with the appropriate diluent, not saliva or water, to smooth the clay's surface.