Things You'll Need
Black construction paper

Hole punch

Quarter-inch elastic

Colored card stock

Gel spa mask

Scissors

Scrap fabric

Glue

Feathers, rhinestones and buttons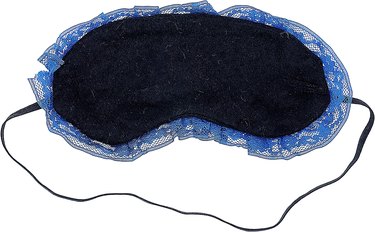 Paper is a versatile and inexpensive medium used for many items, from cups to wall coverings to wasp's nests. Comfortable, simple blindfolds can be fashioned from paper in a very short amount of time. Paper blindfolds can be used for children's party games, in taste tests on reality television programs, and to encourage sleep when your roommate insists that the light must stay on so he can study for exams. A simple blindfold can be created when several blindfolds are needed in a hurry, a fancier one can be fashioned when you have more time for creating.
Simple Blindfold
Step 1
Place a black sheet of construction paper vertically on a flat surface.
Step 2
Punch holes in each side of the paper, about three inches down from the top.
Step 3
Cut a length of quarter-inch elastic purchased from a craft store so it will fit comfortably around your head.
Step 4
Tie the elastic through each hole and knot securely.
Step 5
Place blindfold over your head so the paper covers your eyes.
Fancy Blindfold
Step 1
Trace a mask shape onto a piece of colored card stock. A gel spa mask can be used for a pattern. Cut out the mask shape.
Step 2
Cut two lengths of ribbon that, when attached to the mask, will fit around your head with room to tie the ends.
Step 3
Glue the ribbons to either side of the card stock with craft glue. Allow to dry.
Step 4
Embellish the front of your mask with feathers, rhinestones and buttons if desired.
Warning
Always use caution when wearing a blindfold, especially when it involves children and party games.