Things You'll Need
Tape measure

Black marker

T-square

Utility knife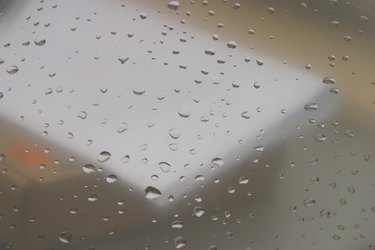 Plexiglass is a type of acrylic made up of light, transparent weather-resistant thermoplastic. It is used as an alternative to glass. Plexiglass comes in various thicknesses and sizes. It is flexible and is used as a window replacement. Plexiglass is much stronger than regular glass and can also be used for many different household applications. If you have plexiglass and need to use it for a household project, you can do that no matter what size it is, simply by cutting it down.
Step 1
Inspect the area where you will be using the plexiglass. Determine what size piece you need. The size of the piece will vary depending on what type of application you are using it for.
Step 2
Remove the plastic covering from the sheet of plexiglass. Peel it back beginning at the corner and repeat the process for the other side. This protective covering prevents scratches on the plexiglass until it is ready for use.
Step 3
Measure and mark the plexiglass at the desired cut location for length for your particular application. Make a small mark on the plexiglass with a black marker and line up a T-square at that mark. Draw a straight line along the T-square so a straight cut can be made.
Step 4
Hold the T-square down in place and run a utility knife along the plexiglass. Move the utility knife along the same line multiple times until the plexiglass begins to bend and breaks in two. Measure the piece to verify the proper cut was made and repeat the same process for the width of the plexiglass.
Step 5
Wipe off the edges where the cuts were made with a clean rag. Hold the piece of plexiglass up and measure to verify the proper cut was made and the sheet will be able to be used for your particular application.