Things You'll Need
Storage shed or garage

Padlocks

Aircraft cable or chain

Fence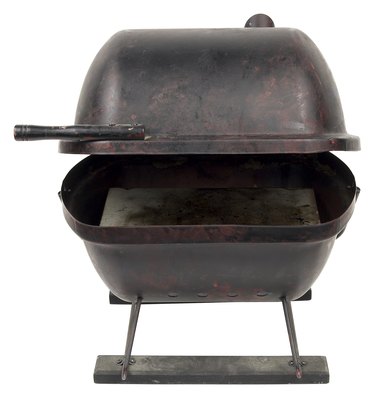 Don't get caught in the disheartening position of walking out to your patio, meat and corn-on-the-cob in hand, only to discover that your grill is gone. According to the National Barbecue Association, 81 percent of Americans own barbecue grills, a staggering number of potential charcoal and propane units ready to be snatched if left unprotected. Keep your grill safe all year long through proper storage and backyard safety techniques.
Step 1
Store the grill inside a storage shed or garage when not in use. Install a padlock or choose a shed that is equipped with a locking door to prevent easy entrance by a potential burglar.
Step 2
Remove the grill's wheels. This makes moving the grill more of a challenge for the potential thief. Reinstall the wheels when the grill is moved for winter storage.
Step 3
Tether the grill to your deck or patio with galvanized or stainless steel aircraft cable or chain. Run the chain or aircraft cable around the grill's leg and attach it to the deck or patio. Secure the chain's or aircraft cable's ends with a padlock.
Step 4
Install a fence around your yard or the perimeter of the deck or patio where the grill is kept. Install a lock on the gate to make it more difficult for thieves to enter in the night.
Step 5
Keep the grill in a highly visible area at night. Move the grill to your front lawn or a well-lit location. Avoid keeping your grill in a spot that is easily accessible from a back alley or near a driveway or street.