Things You'll Need
Photos

Scissors

1-inch foam paintbrush

Squeegee (optional)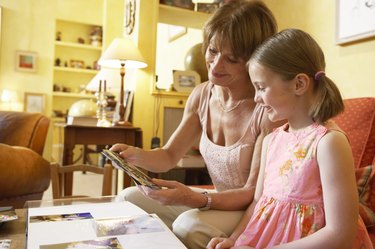 Making a photo collage is a creative way to display your treasured memories or simply create an interesting work of art. Although there are many methods to create a collage, one of the simplest and most classic is decoupage. Decoupage glue such as Mod Podge can be used to adhere your photos to the collage base and seal them once the collage is finished. Doing so protects the photos from tearing or peeling off over time.
Step 1
Select the photos you'll use in your collage. If necessary, trim them to size with a pair of sharp scissors. Lay them out on a flat surface so they're within easy reach.
Step 2
Prepare the surface that will serve as the base of your collage. Nearly anything you'd like can serve as a base, including wood, canvas or a heavy sheet of card stock. If you're using wood, sand it smooth before you begin. All surfaces should be wiped down with a clean, dry cloth to remove any dust and dirt.
Step 3
Determine where you'll place the first photo. Use a 1-inch foam brush to apply a thin layer of Mod Podge to the back of the photo and the area of the base where the photo will go.
Step 4
Place the photo carefully onto the base. Press down on the surface of the photo with your fingers or with a small squeegee to smooth out any wrinkles or air bubbles.
Step 5
Apply additional photos to the base surface until the collage looks the way you want. Allow the Mod Podge to dry for at least 15 minutes, then apply a thin top coat of Mod Podge over the surface of all of the photos. Once the top coat has dried, your collage is finished.
Tip
Don't be alarmed when you first apply Mod Podge to your photos and it has an opaque appearance. It will dry clear.