Things You'll Need
Boxes

Tablecloth

Cake stands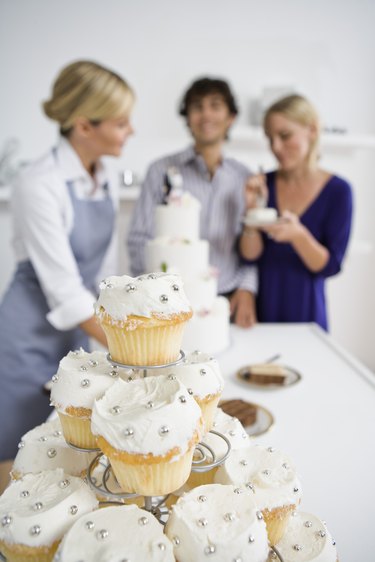 The buffet table is an important focal point when planning a party, but its decorative possibilities are sometimes overlooked. Tiers provide multiple height levels to the table. Adding tiers to the buffet table extends the often-limited table space, while providing vertical interest to the table. After deciding the general look for your buffet table, you can add as few or as many tiers as you want or need.
Step 1
Gather boxes of various sizes. The heights can be the same if you prefer a standard height for your tiers, or of varying heights for a more casual, eye-catching look.
Step 2
Decide if you want the boxes that will create the tiers to be exposed or not. Your preference will determine how you form the tiers. If you have pretty boxes you want to display, exposing them makes more sense. If you don't want your guests to see the objects supporting the tiers, an unexposed plan may work better for you.
Step 3
Place boxes on the table if they will not be exposed. Each box represents an area where an incline will be. Organize the boxes to coordinate with where you want more height, such as by the desserts or to hold dips. Space each box at least 6 inches from the others so the tablecloth has enough space to lift and rise around each box.
Step 4
Spread a tablecloth over the table. It should be large enough to cover the boxes and hang from the sides from the table. Tuck the tablecloth in around the boxes to define each rise if you prefer. Add another tablecloth in a different color to cover some of the tiers if you prefer.
Step 5
Stack decorative boxes on top of the tablecloth if you want an exposed look. Stacking the boxes from largest to smallest provides multiple layers to display and serve food.
Step 6
Add food to the table. Place containers on the table and on top of the tiers. The food that is elevated should be placed in sturdy containers.
Step 7
Make tiered food stands to gain even more height. Stack cake stands on top of each other from largest to smallest to form your own cupcake stand. A stack of bowls creates a practical solution for a tiered fruit holder. Paint terra-cotta saucers and candlestick holders the same color. Use a strong adhesive to bond the pieces together.