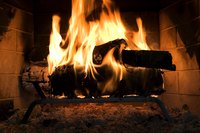 Nothing makes a home feel cozier than a roaring fire on a cold winter night. Building a good fire involves more than just wood and matches, however. To get the fire of your dreams, you need the right kinds of wood, stacked correctly, with plenty of space for air to circulate around the logs. Follow a few basic steps, and you'll have that roaring fire going before you know it.
Things You'll Need
Newspaper
Fire starter (optional)
Kindling or fatwood
Hardwood strips (about 1 inch square by 1 foot long)
Seasoned split hardwood logs
Fireplace matches
Fire tongs
Clean the ashes from the bottom of your fireplace. Open the damper.
Crumple two or three sheets of newspaper and place them in the grate. Or use a fire starter in place of the newspaper, if you prefer.
Arrange a handful of kindling or fatwood in a crisscross fashion on top of the newspapers.
Place eight to 10 hardwood strips crisscrossed on top of the kindling.
Place two or three hardwood split logs on top of the smaller strips. Arrange them so that air can circulate around the logs.
Crumple two sheets of newspaper. Light the paper and hold it inside the fireplace near the flue opening to warm the flue and get the air flowing upwards.
Light the newspaper at either end of the grate. The newspaper ignites the kindling, then the small wood strips and finally the logs.
Place a fire screen in front of the fireplace for protection from sparks.
Add additional logs using fire tongs as the fire burns down.