Things You'll Need
1/8-inch-wide ribbon

Scissors

Hot glue gun

Silk flowers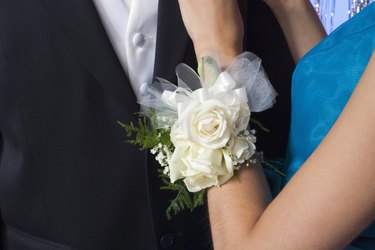 Fresh flowers may be preferable in some situations, but when you want to save a few dollars or avoid the hassle of keeping the flowers fresh, silk flowers give you an everlasting alternative. You can use the same elastic wristlets that hold fresh flowers on a corsage for holding silk flowers. Choose your favorite silk flowers in colors that fit your dress or gown when making your own corsage.
Attaching Ribbons
Step 1
Examine the elastic wristlet to see if it features attached ribbons to tie flowers onto the corsage. If yours does not have ribbons attached, cut two six-inch pieces of ribbon with scissors.
Step 2
Turn the elastic wristlet inside out. Apply two beads of hot glue across the width of the wristlet, 1/2 inch away from each other.
Step 3
Lay a ribbon over each bead of glue to center them, leaving an equal length of ribbon hanging from either side of the wristlet edges. Allow the glue to dry and cool.
Step 4
Turn the wristlet right side out again.
Creating the Corsage
Step 1
Cut a sprig of silk floral garland, attached to the same stem, that will extend about 1/2 inch or more on either side of the wristlet after you place it across the width.
Step 2
Lay the floral sprig along the wristlet, directly over the glued the ribbons. The stem of the flowers should cross the ribbons.
Step 3
Knot the ribbons tightly around the stem of the flowers to hold it in place.