Things You'll Need
Clean microfiber rags

Dust mop

Microfiber mop

Fabric softener

Spray bottle

Stone soap

Turpentine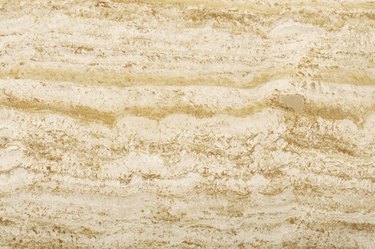 Travertine is porous limestone, and should be cleaned and polished regularly. It should be sealed every two years to prevent staining. Because travertine is limestone, avoid using any acidic cleaning substances such as vinegar as it will etch away the stone and cause the surface to appear uneven.
Step 1
Seal the travertine stone with a commercial stone sealant. Squeeze some of the sealer onto a clean microfiber rag and rub it onto the floor. Let the sealant dry for five minutes. Polish the sealant residue away with a clean rag.
Step 2
Clean the floor with a dust mop and then mop the floor with a microfiber mop and warm water.
Step 3
Polish the travertine with a mix that is one part liquid fabric softener and two parts water. Place the mix into a spray bottle. Spray it onto the stones and then polish it off with a microfiber rag. This approach prevents wax buildup on the floor so that you do not have to strip the floor.
Step 4
Strip the floor if you already have a wax buildup by first moping with hot water and stone soap and then polishing with a turpentine soaked rag.