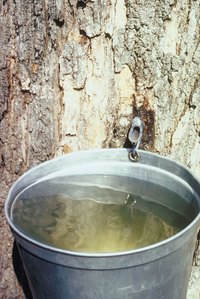 Laminate flooring is typically durable and requires little maintenance to keep it looking its best. However, tree sap that comes in contact with the floor will leave a troublesome sticky mess that you cannot budge with general floor cleaners. In addition, the sap will become a safe haven for dirt, dust and other debris. If left untreated, the sap will leave the laminate flooring looking dull and dingy.
Things You'll Need
Put on rubber gloves and moisten a cloth with acetone. Scrub the tree sap off the floor with the cloth in a vigorous circular motion.
Wipe the acetone off the laminate floors with a clean cloth dampened with water. Wipe dry with a clean towel. Continue if the sap remains.
Dampen a clean rag in mineral spirits and place the rag on top of the sap for several seconds. Rub the sap gently with the rag until you have removed the tree sap.
Rinse the mineral spirits immediately off the floor with a clean rag dampened with cold water. Mop the floors as you normally would and let air dry for several hours.