Things You'll Need
Large marshmallows

Icing

Pretzel sticks

Toothpicks

Small candies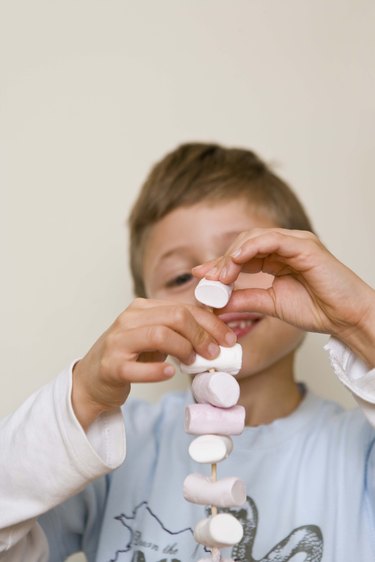 During winter months, teachers and parents often make snowman crafts with children. There are numerous ways to make snowman crafts; some are very simple, requiring only a few common supplies. You can make this snowman craft with children who are very young, such as preschool age, or with children older, up to around third grade. After children make this craft, they can eat it as a snack, because all of the supplies used for it are completely edible.
Step 1
Take three large marshmallows and stack them on top of each other. Large marshmallows work much better than small ones. White marshmallows are the most common and work well for making snowman, although sometimes you can find colored large marshmallows that also work well.
Step 2
Place a small amount of white icing in between the marshmallows. The icing serves as a glue to help secure the marshmallows together and is completely edible.
Step 3
Insert a toothpick through the marshmallows. The toothpick will also help hold the marshmallows together. To avoid using toothpicks, you can also secure the marshmallows together by carefully inserting pretzel sticks through the snowman's body. Set the snowman aside and let the icing dry completely before continuing.
Step 4
Insert pretzel sticks in the middle marshmallow. These will be the snowman's arms. If necessary, break a pretzel stick in half to make the arms shorter.
Step 5
Attach candies on the top marshmallow. Make a face for the snowman by attaching small candies on the face as eyes, a nose and a mouth. Use icing as the glue to secure the candies in place. A small piece of red licorice works well for the snowman's smile and chocolate chips work well for his eyes. Place a chocolate kiss, or a gumdrop, on the snowman's head to create a hat for him.
Step 6
Turn the snowman into a skiing snowman. To do this, take a piece of angel food cake and place it on a plate. Stick two pieces of licorice on the cake to use as skis. Attach the snowman to the top of the skis using toothpicks or pretzels.
Warning
If using toothpicks, be sure to remove them before eating the snowman.