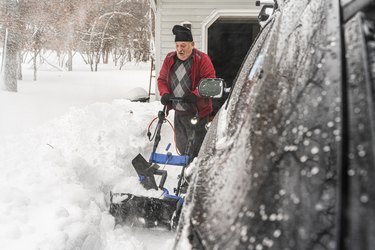 Snowblowers sometimes run into problems, like the engine not starting, gas leaks, rough running or the engine starting and repeatedly stopping when you are using it. With brands like Cub Cadet, the root of the problem could be the carburetor needing to be replaced. Before doing that, though, you'll want to try some troubleshooting to first rule out other problems.
Troubleshooting a Snowblower
The most obvious thing for which to check will be to see if power is coming from the engine. For an electric model, you should plug it in, and if you have a model that uses gas, it must have enough fuel in its tank. Since ethanol builds up and causes moisture problems, any gas that is over 30 days old should be siphoned out and replaced. A shaky snowblower could be symptomatic of a fuel combustion problem. Drain the tank, refill it with fresh gas and replace the spark plugs; you'll need a special spark plug socket for this.
Sometimes, snowblowers jerk forward when you squeeze the drive handle. This jerky motion happens with two-stage blowers when the cables sending power to the wheels must be adjusted to provide more tension to the belt. Unclip that cable from the handle and tighten up the line's threaded adjustment; you should be able to locate this piece at the base of the machine. Spray lubricant at the pivot points, reconnect that clip and try the snowblower again, knowing that you might have to lube it a few more times.
Could It Be the Carburetor?
If the snowblower starts and stops or turns over but doesn't start, try cleaning the carburetor. Make sure the engine is cool and take out the carburetor bowl, float bowl and flathead. Spray on a carburetor cleaner and clean away the mess with a clean, lint-free cloth. You can also remove the entire carburetor and dunk it in a liquid carburetor cleaner. Afterward, remove any rust from the holes, bowl and nuts with sandpaper and blow out any remaining debris with compressed air before reassembling everything.
Cub Cadet manufactures residential and commercial lawn mowers, utility vehicles and snowblowers. Its larger models can blow up to 23 inches of snow away with 34-inch clearances and are well suited for areas that get these kinds of heavy snowfalls. It also sells accessories, including snowblower carburetors that meet its own product specifications. If you need to replace your carburetor, it's best to buy an exact match.
Cub Cadet Snowblower Carburetor Removal
If you need to remove a Cub Cadet snowblower's carburetor, make sure the engine is shut off and cooled down. Put on work gloves and drain the gas out of the tank. You'll need to remove the muffler next, and you can use a socket wrench to remove the bolts. Use this same tool on the gas tank's bolts and take that out as well. Look at the carburetor and locate the intake on the back. It is shaped like a bowl and is attached with a few bolts and screws. Remove the intake with a Phillips screwdriver and a socket wrench.
Now, place a pan beneath the carburetor bowl and look for a nut on the bottom of the bowl. Once you loosen this, the carburetor fluid will flow into the pan. When you have emptied it, you can remove it and then the carburetor bowl. You might want to contact a Cub Cadet dealer before removing the carburetor to ask if there are any replacements in stock. Do not wait to troubleshoot or replace your carburetor if your snowblower starts acting up.