Things You'll Need
Folding staircase kit

Installation hardware

Stepladder

Power drill

Drywall saw

Saw

Hammer

Measuring tape

Lumber

Nails

Screws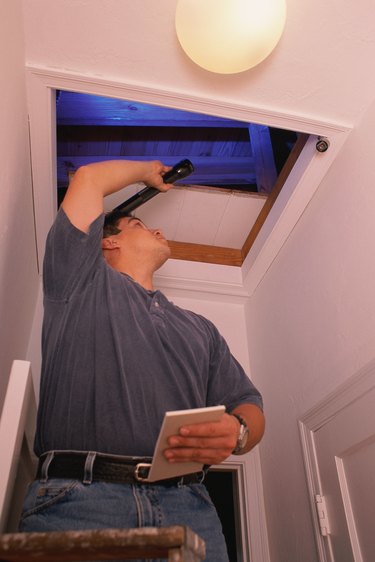 Taking advantage of unused attic space creates much needed storage space in a home. Though the space won't be cooled, seasonal items, books, luggage and clothing can all be stored there to keep it out of sight. Your home may have a hatchway in the ceiling for access, requiring you to use a ladder and hoist yourself up. If not, a hatch can be created using a drywall saw. Use a folding staircase kit to gain access to the hatch and make use of your attic space.
Step 1
Draw lines on the ceiling where the hatch opening is to go. Look in the attic to make sure no ducts, pipes or wires will be cut when sawing open the hatch. To keep your ceiling from sustaining any damage, avoid joists or strengthen joists. Use a drywall saw to cut out the hatch opening.
Step 2
Remove any wood that is blocking the hatch opening. Nail headers between joists on both ends to make a frame. Hammer nails or drive screws to secure the ceiling drywall to the frame.
Step 3
Bolt the stair frame onto the hatch opening following the instructions that come with the stair kit.
Step 4
Using the continuous hinge from the staircase kit, attach the door panel to the finished frame. Swing the door to check that it closes properly and fits inside the frame.
Step 5
Use a measuring tape to measure a straight line from the fold-down hinge of the staircase to the floor. Measure for both legs.
Step 6
Mark the measurements on the extended legs to determine where to cut. Use a saw to cut off the excess wood on each leg.
Warning
The integrity of your ceiling is at stake. This can be dangerous or at least very expensive to put right. The stairs might break or twist and you may fall off, possibly right down the stair well. The retractable mechanism might jam or break. Falling accidents are often fatal.