Things You'll Need
Floor jack

2 jack stands

3/8-inch drive ratchet

New tension control arm -- optional (Part No. GY20059BLE)

1/2-inch drive torque wrench and socket set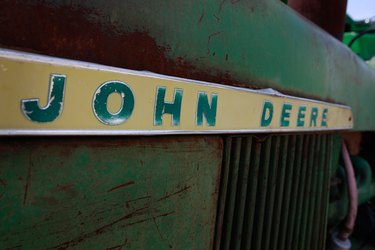 The John Deere LA105 was produced from 2008 until 2010. The LA105 came equipped with a 19.5-horsepower Briggs & Stratton gasoline engine. The LA105 was available with a 52-inch mid-mount cutting deck, a 46-inch front-mount push blade and a 44-inch front-mount snow blower attachment. The belt on the LA105 is propelled by the engine to control the speed of the mowing deck blades. Adjustment of the tension on the belt is a relatively simple process, though accessing the belt can be somewhat difficult.
Step 1
Raise the left (sitting on the mower) side of the mower with a jack, one end at a time. Place a jack stand beneath the front frame rails and underneath the left rear axle on the rear. Lower the mower deck to the lowest possible setting.
Step 2
Kneel next to the left-side mower deck, and remove the belt guard on top of the deck. Use a ratchet and socket to remove the belt-guard mounting bolts. Remove the belt guard from the mower.
Step 3
Inspect the farthest left pulley by hand to ensure no physical play or looseness in the pulley or tension system. Inspect the tension rod and the tension arm for bends, breaks and excess wear. If the arm is bent or excessively worn, remove the left belt pulley and replace the arm.
Step 4
Loosen the mounting bolt for the arm toward the front of the deck. Pivot the arm to tighten the belt, using a small pry bar if needed.
Step 5
Tighten the tension arm mounting bolt between 50 and 60 foot-pounds with a 1/2-inch drive torque wrench and socket. Install the left-side belt guard, and snug the mounting hardware with a ratchet and socket. No torque is necessary for this cover.