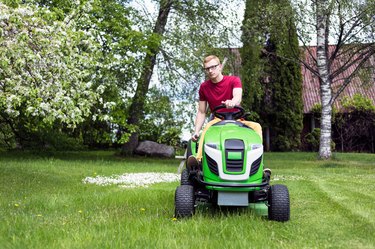 Riding mowers, like the Cub Cadet LT1045, are a great help when managing medium to large lawns and properties, but when something goes wrong, repairs can be expensive. Performing repairs on your Cub Cadet yourself, like Cub Cadet rear tire removal and repair, can keep costs low and get you back on track quickly. When something goes wrong with your Cub Cadet riding lawn mower's tires and wheels, simply removing the wheel can make working on it so much easier.
Cub Cadet Size Information
Much like when you are working on a larger automotive vehicle, you will want to park the Cub Cadet LT1045 on a flat, level surface with enough room to walk around the entire machine.
The LT1045 is 5 feet and 8 inches long by 4 feet and 1 inch wide, weighing 510 pounds, so you'll want at least 2 to 3 feet clearance on each side. You should also have a jack and jack stands capable of supporting over 600 pounds to be safe.
Using a Jack for the Mower
As with a larger vehicle, place your jack under the center rear of the mower to get started with Cub Cadet rear tire removal. When you do so, make sure that the jack will come into contact with a solid part of the mower's frame to avoid tearing off parts of the riding mower's body or damaging more delicate components.
Raise the vehicle until the tires are no longer touching the ground and then place jack supports to the right and left of the jack at a suitable height to keep the tires off the ground before lowering the jack.
Cub Cadet Rear Tire Removal Process
The rear axle's tires are secured with a hubcap and a 5/16-inch hex bolt. Be careful when removing the hubcap, as it is held in place by molded internal extrusions gripping the large, flat washer below.
Using too much force can damage these molded extrusions, requiring a new hubcap to protect the bolt and washers from the elements. A flat-bladed screwdriver or similar tool will be helpful in carefully prying off the hubcap.
After using a 5/16-inch socket wrench to remove the bolt, flat and bell washers, you should be able to easily slide the entire wheel off the axle. If you find that the tire has been damaged beyond repair, you will need a new 20 x 10 x 8-inch tire, which should be inflated to a pressure of approximately 10 pounds per square inch.
Important Considerations and Best Practices
There are other important things to consider when removing the tire of your Cab Cadet 1045. Be sure to clean the axle and apply a light coating of grease before reversing this procedure to mount a new tire or wheel in order to obtain the smoothest operation.
You can make this entire operation even safer by opening the engine hood, locating the spark plug and carefully disconnecting it. This way, there is no possibility of the wheels nor the blades of the mower starting to power up while you're working on it.