Things You'll Need
Measuring tape

1/16-inch paracord strings (2)

Scissors

Lighter

Hole punch

Metal grommets (2)

Grommet pliers

1/4-inch plastic bead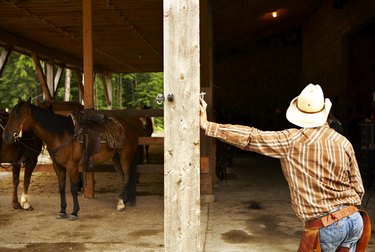 Crafting stampede straps for your cowboy hat is a wise way to prevent your headgear from flying off during a horse race. Stampede straps are actually leather straps or strings that drape down around the base of your neck. You can loosen or tighten the strings together to respectively remove or fasten the hat. Once your strings are in place, your hat will sit securely on the top of your head while you are in motion atop your stallion.
Step 1
Measure the circumference of the base of your cowboy hat crown. For the purposes of the example, say the circumference is 16 inches. Add 26 inches to the initial measurement. The total measurement is now 42 inches.
Step 2
Cut two 1/16-inch-thick pieces of paracord string to 42-inch lengths. Lightly scorch the ends of each string with the flame of a lighter to prevent fraying.
Step 3
Punch a 1/8-inch hole in the right side of the hat where the base of the crown meets the brim. Repeat for the left side.
Step 4
Attach one half of one grommet to the top side of the left hole. Attach the second half of the same grommet to the bottom side of the left hole. Press the grommet pieces together with grommet pliers to secure the bond. Repeat for the right-side hole.
Step 5
Pull a 16-inch wide loop of one string carefully up through the left side hole. Drape the loop around the base of the crown. Repeat with the second string through the right-side hole. You now have four total stands of 13-inch free hanging strings below the right and left side of the hat.
Step 6
Insert the all free hanging strings ends through the bead. Slide the bead 6 inches up the strings. Tie a single knot at the bottom of the left string. Tie a single knot at the bottom of the right string. Avoid tying both strings together. Each individual string now has a knot at its respective free end to prevent the bead from sliding off.