Things You'll Need
Empty Bic lighter

Vice

Hacksaw

Inner part of pen

Sandpaper

Utility knife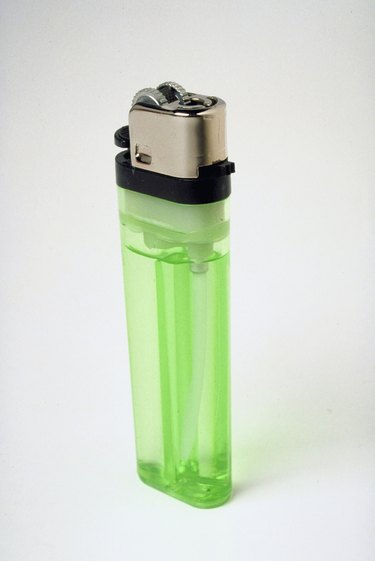 Bic lighters are one of the most common disposable lighters, found in a variety of stores and recognizable due to their distinct shape and often colorful appearance. However, when empty, most people simply toss the lighters. Creating small containers out of an old empty lighter is an economical and funky way to make a small carrying case, one that will go unnoticed by most. Use the small containers as a creative way to package small presents, such as gift certificates.
Step 1
Place the lighter on your worksurface. Ensure that it is completely drained of butane by holding down the red fuel release button on the back or by trying to light it.
Step 2
Place the hacksaw 1/8-inch from the bottom of the lighter . Cut through the lighter slowly at this spot until the cap is completely removed along with the bottom. Set it aside.
Step 3
Cut out any compartments in the inside of the lighter and sand the edges down using the sandpaper. This will create a small area to hold items in.
Step 4
Sand down the bottom edges of the lighter so they are not sharp, both inside and outside.
Step 5
Sand down the edges of the bottom that was set aside until the white cap is completely exposed. Continue to sand it until it fits easily back in the bottom of the lighter.
Step 6
Insert whatever materials you want to contain in the open bottom of the lighter. Place the white piece back on the bottom of the lighter and push it in to place. Remove the goods from within by simply prying off the bottom of the lighter.
Warning
Always ensure that the lighter is completely drained as it can be dangerous to open if any butane, or fuel, is still within.