Things You'll Need
Newspaper

Spray bottle suede protector with moisturizer

Soft towel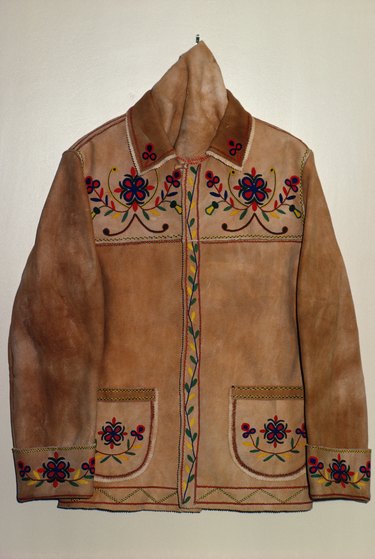 For over 5,000 years, the skin of animals has been used to make the tough material of leather. Suede is a form of leather, often desired for its softer feel and appearance. Created from the bottom of a hide rather than the upper side, it is usually used in the fashion industry for accessories or clothing, or for upholstering. Due to its delicate nature when compared to leather, caring for suede properly, including moisturizing the leather, is integral to its look and longevity.
Step 1
Wash the suede, if washable, according to the manufacturer's directions. Allow it to dry to room temperature for about 48 hours.
Step 2
Place the suede in a well-ventilated room or work area. Put newspaper on the work surface to protect it from discoloration caused by the protector.
Step 3
Spray an even layer of protector over the suede, according to the manufacturer's directions. Allow it to dry thoroughly.
Step 4
Apply a second coat of the protector and allow it to dry.
Step 5
Buff all over the suede item with the clean cloth to bring out the texture, or nap, of the suede once more and rub the moisturizing oils evenly into the leather.
Tip
Choose a waterproof protector if the suede will be exposed to water or outdoor weather.
Warning
Do not apply oils directly to the suede to moisturize it, as this will stain and ruin it.