Things You'll Need
Tape measure

Scotia molding

Pin nail gun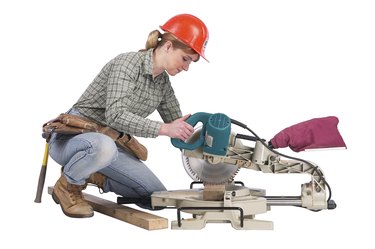 Laminate flooring installations call for a gap along all outside edges of the floor between the laminate and the wall to allow for expansion of the flooring material. While this gap serves a practical purpose it is no less unsightly if left uncovered. Not only that, but dust and other dirt has a tendency to filter out from the bottom seam along the wall and onto your floors. Scotia is the proper name for base shoe or cove molding. It is applied at the bottom of the baseboard to cover the gap.
Step 1
Measure the outside edge of your floor and add up the entire length. Add 20 percent to this length and purchase that much scotia before you begin the installation.
Step 2
Select your scotia molding to match the floor, or baseboard, depending on the design. Most laminate flooring is faux wood grained, but may also be a tile design. If your baseboard is painted, choose a color that matches it for the best look.
Step 3
Measure the longest straight section along the baseboard in your room with a tape measure. Cut the scotia to fit this section, either the same length as this section, plus the thickness of the scotia for any end that is on an outside corner. An outside corner is any corner that folds away from the face you are installing on.
Step 4
Cut the ends of your scotia piece on a 45 degree miter on any end where it will butt up to another piece of scotia. Cut inside corners, so the miter runs into the molding leaving the back edge the longest. Cut outside corners away, so the front edge is longest.
Step 5
Fit the scotia against the bottom of the baseboard and nail through it into the baseboard, not the floor, with a pin nail gun, one nail every 12 inches. Fill the nail holes with a wood filler for wood grain scotia, or a matching color of latex caulk for paint colored scotia.
Step 6
Measure, cut and fit scotia for each section of baseboard along the bottom of your walls in the same way. Pay close attention to whether the corners are inside or outside and remember to adjust the length of your pieces accordingly.