Things You'll Need
Fake fur fabric

Scissors

Pins

Pants

Sewing chalk

Ruler

Needle & thread (optional)

or

Sewing machine

Drawstring

Work boots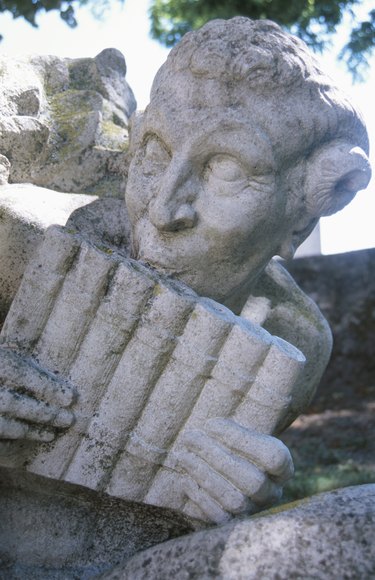 If you want to go as a Satyr for Halloween, or for a Greek myth theme party, complete the costume by making your own pair of furry Satyr pants. Satyrs were mythical creatures that had the top half of a man and the bottom half of the hind quarters of a goat. Use a basic pants sewing technique with fake fur fabric and easily fake a pair of cloven hooves. Find the materials you need where sewing or craft supplies are sold.
Step 1
Fold 3 yards of fake furry fabric in gray, brown, white or black in half. Cut along the fold so you have two pieces of furry fabric at equal lengths. Turn the pieces of fabric so that the furry sides face each other, with one on top of the other. Place them on your work table. Pin the two sides together in the middle to hold them together as you work.
Step 2
Place a pair of pants that fit you snugly on top of the fake fur fabric and center them. Trace 1/2-inch from the edges of the pants all the way around with sewing chalk and add 2 more inches to the ends of each pant leg. Cut along the traced line through both sides of the fabric.
Step 3
Sew a straight stitch along the sides of the pants, about 1/2-inch from the outside edges of the pants and the inseam. Do not sew together the front and back of the waistline or the bottoms of the legs.
Step 4
Fold the top edges of the waistline down. Sew them down at the edge to leave a space for the drawstring that will hold the pants up. Run the drawstring through the openings on either side of the tunnel and let the ends of the drawstring hang from the openings. Remove the pins from the fabric.
Step 5
Put on the satyr pants when you are ready to wear them and tighten the drawstring to hold them up. Tie the drawstring, then tuck the ends of the drawstring in the waist to hide them. Put on a pair of brown work boots and let the ends of the pant legs hang down so that only the toes of the boots are showing.