Things You'll Need
Nonslip bath mat

Anti-slip stickers

Household cleaner

Sandpaper

Painter's tape

Anti-slip solution for fiberglass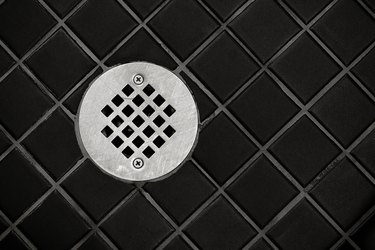 A slip and fall in a shower can cause serious injury, especially in older adults. Slipping can cause pulled muscles, fractured bones and even brain injuries if you hit your head hard enough. Fiberglass shower tiles or pans can be slippery, especially after years of wear. Shampoos and soaps that accumulate on the shower floor can create a slippery surface. You can take action to reduce the slipperiness of a fiberglass shower floor.
Step 1
Place a nonslip bath mat on the fiberglass shower floor. Many of these mats are self-adhesive or adhere to the floor with suction cups. They come in a variety of materials from rubber to wood. Mats are available at most general retailers and home improvement stores.
Step 2
Put anti-slip stickers in the shower to reduce slipperiness. These work similar to bath mats, except they are usually thinner and smaller than a mat and adhere with adhesive only. They also come in a variety of designs that can match most decors.
Step 3
Spray an anti-slip solution for fiberglass on the surface. Before applying, clean and rinse the fiberglass shower floor with household products. Then sand the shower pan with sandpaper; wipe off the debris with a towel. Tape off the area where you want to apply the anti-slip solution with painter's tape, and apply the anti-slip solution to that area. Allow the product to cure for 24 to 48 hours. Anti-slip solution is available online or at home improvement stores.