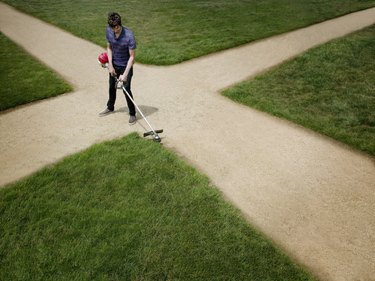 Weed Eater, a division of Husqvarna AB, is a brand synonymous with electric and gasoline garden string trimmers. You might want take apart your Weed Eater trimmer before placing the unit in storage, shipping it in to a new location or if you need to change some of the removable parts. Disassembling a Weed Eater trimmer is relatively straightforward and does not require special tools or knowledge of the device. The process takes about 10 minutes.
Step 1
Stop the Weed Eater and disconnect the power cord from the outlet, if necessary. Wait a few minutes for the engine and other moving parts to cool down.
Step 2
Remove and set aside the wing nut attaching the shield above the trimmer head in place. Pull the plastic shield off and place it with the wing nut.
Step 3
Pull firmly on the tap button to remove the line spool from the base of the trimmer. Set the spool aside or discard if it is empty.
Step 4
Tighten the adjustable wrench on the dust cap above the trimmer head and unscrew the head by hand, turning it several rotations counter clockwise. Place the head with the other parts.
Step 5
Lift the rubber boot over the spark plug at the engine end of the trimmer (gasoline models only) and unscrew the spark plug, if necessary.
Step 6
Flip down the cover protecting the air filter behind the starter cord and pull out the air filter from the engine assembly, if necessary. The Weed Eater is now disassembled.
Tip
Empty out the gasoline if you plan on keeping the unit idle longer than six months. Add fresh fuel for next use.