Things You'll Need
Club soda

Clean cloth

Sponge

Dish soap

Lemon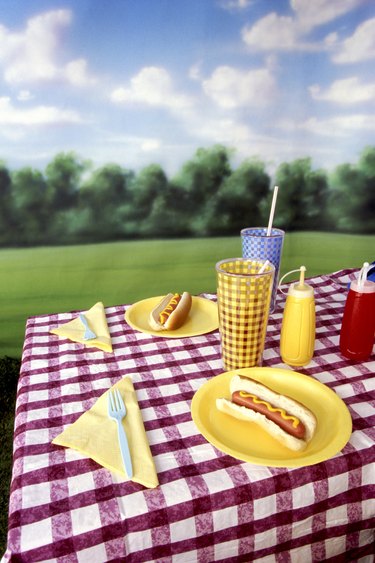 Vinyl tablecloths are a necessity when feeding kids or messy guests because of their simple-to-clean nature. If spaghetti was on the menu, a messy reminder may remain, marring the look of your tablecloth. Though, most of the time, vinyl tablecloths are simply wiped clean, some stains require a little more work. In the interest in keeping a clean and new appearance for your vinyl tablecloth, take a little time and care.
Step 1
Wipe club soda over the stain with a clean cloth to dampen it.
Step 2
Let the club soda sit for 15 minutes then wipe away with a damp sponge.
Step 3
Drizzle liquid dish soap over the stain.
Step 4
Scrub the dish soap into the stain with a sponge dampened with warm to hot water.
Step 5
Add more dish soap as needed and continue to scrub, removing as much of the stain as possible.
Step 6
Rinse the sponge and wipe away any residual soap from the tablecloth with it.
Step 7
Take the tablecloth outside and lay it flat with any remaining stain facing up.
Step 8
Rub the stain with a lemon wedge, covering the entire stain with lemon juice.
Step 9
Leave the tablecloth outside in the sunlight with the lemon juice for one hour. The lemon will bleach the stain. Leave the tablecloth outside and repeat the process until the stain is gone.
Step 10
Wipe the area with a damp cloth to clean up any residual stickiness.
Tip
Some vinyl tablecloths are machine washable. Check the manufacturer's instructions before washing the tablecloth. Hang the tablecloth outside or in a cool dry area of the house to air-dry as using the dryer will melt it.
If you decide to use a commercial stain remover, read and follow all instructions and warnings to ensure it is safe to use on vinyl.