Things You'll Need
Printing paper

Cardboard

Glue

Clear packing tape

Laminating machine

Weatherproof sealant

Paintbrush

Weatherproof paper

Plexiglass frame

Skim milk

Alum

Slaked lime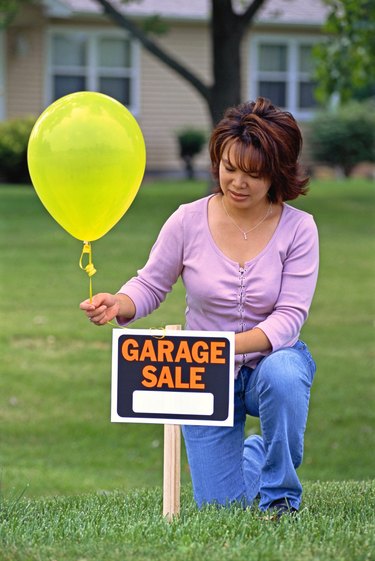 Whether you are making signs for an outdoor yard sale, your garden or to advertise for a business, weatherproofing your sign can save you the headache from having to remake signs that fall subject to a sunny, rainy or snowy day. Weatherproofing material protects your sign from fading in the sun, running in the rain or snow, and disintegrating into nothing. You can keep your signs looking sharp
Step 1
Print or write your sign on plain paper. Paste it to the back of an equally sized piece of cardboard to make the sign sturdy and stand up in place. The sturdier your sign is, the more it will stand up to windy weather.
Step 2
Cover the sign in clear packing tape. Wrap the packing tape -- using a horizontal or vertical motion -- over the paper and the cardboard, to keep the two materials together. Clear packing tape acts as an effective weatherproofing material to keep water from damaging the paper beneath it.
Step 3
Take your paper sign to get laminated at a laminating machine. The laminate provides a front and back coating so that the paper is protected by a plastic sheet. The sheet is weatherproof and can get wet without damaging the sign.
Step 4
Paint a weatherproof sealant over your sign with a paintbrush. Weatherproof sealants lock in the materials they are painted over by providing a protective coating, so that sun, hail, snow and rain do not ruin them.
Step 5
Print the sign on weatherproof paper. Weatherproof paper is specially designed paper that is already waterproof and is ready to get wet without getting ruined. Such paper can be purchased at specialized paper companies or manufacturers.
Step 6
Frame your sign behind a plexiglass frame. The glass acts as a shield, which protects the paper sign behind it.
Step 7
Combine four parts slaked lime with three parts skim milk and a small drop of alum. Brush two coatings over poster board to make it weatherproof.